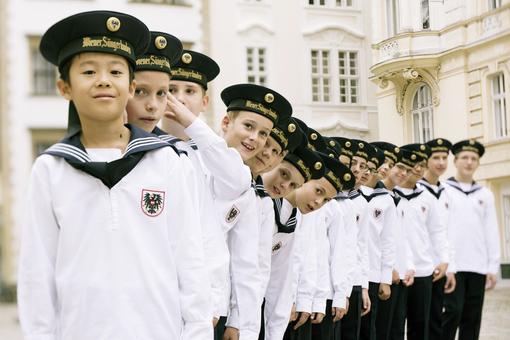 Friday Afternoons - Wiener Sängerknaben Konzerte
Travelling forms part of the education of the Vienna Boys' Choir; as they rack up the miles, they collect music on their way. And you can hear this music first-hand at MuTh, in these "Friday Afternoons" sessions. They perform their travelling repertoire with an exuberant charm, presenting a range that stretches from the medieval to the modern: not only Haydn and Schubert, but Broadway hits and Michael Jackson too. And the arrangements are varied as well; a capella, with piano accompaniment, with drums or with an orchestra.
The MuTh concert hall's architecture and acoustic guarantee you an unforgettable experience. The audience are seated right in the middle of the music-making, and the choristers' enthusiasm is highly contagious.
Venue
Am Augartenspitz 1
1020
Wien
Map
Tickets & Info
Wien-Ticket
Current Dates
Fri.

24 Apr 2020

,

5 p.m.

Fri.

15 May 2020

,

5 p.m.

Fri.

29 May 2020

,

5 p.m.

Fri.

05 Jun 2020

,

5 p.m.

Fri.

12 Jun 2020

,

5 p.m.

Fri.

26 Jun 2020

,

5 p.m.