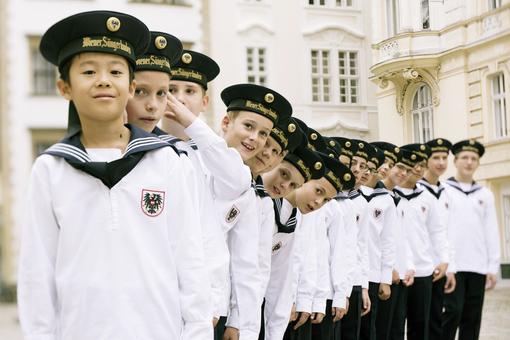 Friday Afternoons - Wiener Sängerknaben Konzerte
The Corona pandemic has turned life upside down. The enemy is tiny, elusive. It can only be fought together. The Vienna Boys' Choir have chosen songs that deal with cohesion, give hope and courage, and show what music can do. They include hits like La Paloma and Dona dona. These are songs that have migrated; music with a migration background. People know and love them all over the world, and they are always sung with the same message - Together.

The programme begins with a piece about a choir rehearsal. The singers have to get together before they can really sing together. The journey starts with a work song at dawn, the Banana Boat Song. From the Caribbean it goes eastwards, towards the sun, via Europe and Asia to New Zealand. The programme ends with the "Wellerman", the shanty that stands for the mood in the Corona pandemic, which tells of the longing wait for the supply ship. The Boys' Choir dismiss their audience with Willie Nelson's "On the Road Again".



Venue
Am Augartenspitz 1
1020
Wien
Current Dates
Wed.

10 Nov 2021

,

5 p.m.

Wed.

17 Nov 2021

,

5 p.m.