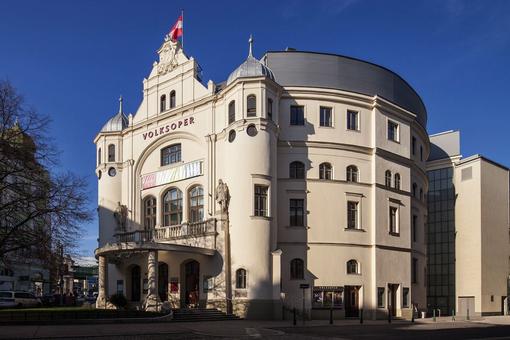 Kiss me, Kate
In German language
Director: Bernd Mottl


Opening night beckons for Shakespeare's "The Taming of the Shrew" – and it's the very pair playing Kate and Petruchio who both quarrel and cannot bear to be parted in real life.
Poetcomposer Cole Porter together with Samuel und Bella Spewack, the musical's creators combined the original play so charmingly with the plot that the show was destined to be a success.
"Kiss me, Kate" triumphed as the first musical brought to the Volksoper by Marcel Prawy in 1956, and five different productions have since appeared on the Volksoper stage. Bernd Mottl's colourful and exuberant 2012 production will return 2020.
Venue
Währinger Straße 78
1090
Wien
Map
Current Dates
Sun.

13 Feb 2022

Wed.

23 Feb 2022

Fri.

25 Feb 2022

Tue.

01 Mar 2022

Thu.

03 Mar 2022

Mon.

07 Mar 2022

Sun.

13 Mar 2022

Wed.

23 Mar 2022

Mon.

28 Mar 2022