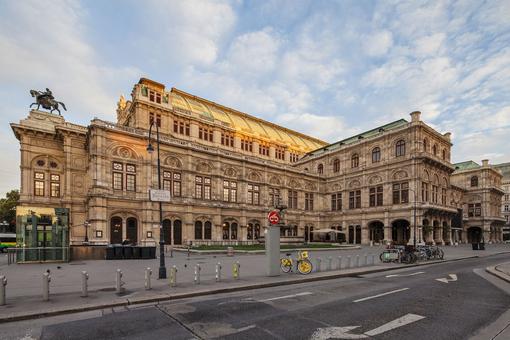 Ballet: Lukács / Lidberg / Duato
Movements to Stravinsky
Choreographie, Bühnenbild und Kostüme András Lukács
Music Igor Strawinski
Umsetzung Kostüme Mónika Herwerth
Lighting Attila Szabó
Between Dogs and Wolves
Choreographie und Bühne Pontus Lidberg
Music Max Richter
Costumes Rachel Quarmby-Spadaccini
Lighting N.N.
White Darkness Dirigent Fayçal Karoui
Choreography Nacho Duato
Music Karl Jenkins
Set design Jaffar Chalabi
Costumes Lourdes Frías
Lighting Joop Caboort
Premiere: 4. 3. 2020
The contribution by Pontus Lidberg is a work commissioned for the Wiener Staatsballett, and at the same time is the first work by Lidberg to be performed at the Wiener Staatsoper. Born in Sweden in 1977, Lidberg became known through his dance film "The Rain" and has been Director of the Danish Dance Theatre since 2018. "White Darkness", which dates from 2001 and is conceived by Nacho Duato as a requiem for his sister, and the "Movements to Stravinsky" by András Lukács (world premiere in 2017, Volksoper Wien) complete a programme in which we see a coming together of highly individual choreographic approaches.
Venue
Opernring 2
1010
Wien
Map
Current Dates
Wed.

04 Mar 2020

,

7 p.m.

Fri.

06 Mar 2020

,

7 p.m.

Sun.

08 Mar 2020

,

7 p.m.

Tue.

10 Mar 2020

,

7 p.m.

Wed.

11 Mar 2020

,

7 p.m.