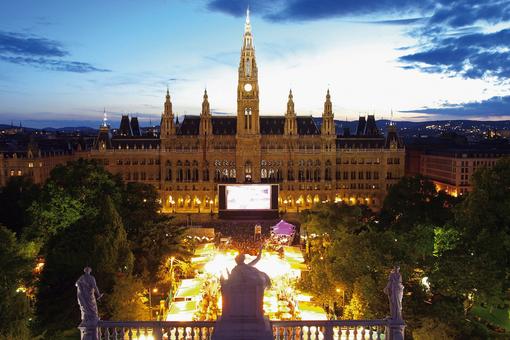 Film Festival in front of the City Hall 2019
Kid's & Family Tip
Since it first began, almost 15 million visitors have been enthralled by the Film Festival at Vienna's Rathausplatz, attracting around 900,000 visitors each year from Austria and abroad. This year the festival is in its 29th year; known as Europe's largest cultural and culinary festival, it is once again offering a superb cultural experience for the ears and eyes with top-class music and art and admission is free.

It takes skill to produce art and the secret of the Film Festival's success is bringing together great skills: a programme that brings you big names and impressive productions on a 300 m² screen in the fields of opera, operetta, dance, pop and jazz, a children's opera festival, which became a sensational success when it was introduced last year and an international top gastronomy experience under the leadership of the internationally active company DO & CO, that is second to none.

The "nuances" of the festival, which include the live programme of the artists' days which feature "unplugged" performances by local artists and Jazz sessions at the weekends, make this a unique event not to be missed.

From June 29th to September 1st, 2019
Start of films: daily at nightfall
Catering 11 am to midnight
Admission is free!
Children's Opera Festival at the Rathauspark
Every Friday during the Festival
Starting at 5pm
Venue
Rathausplatz
1010
Wien
Map
Current Dates
Sat.

29 Jun 2019

Sun.

30 Jun 2019

Mon.

01 Jul 2019

Tue.

02 Jul 2019

Wed.

03 Jul 2019

Thu.

04 Jul 2019

Fri.

05 Jul 2019

Sat.

06 Jul 2019

Sun.

07 Jul 2019

Mon.

08 Jul 2019
All dates
All Dates
July

Tue.

09 Jul 2019

Wed.

10 Jul 2019

Thu.

11 Jul 2019

Fri.

12 Jul 2019

Sat.

13 Jul 2019

Sun.

14 Jul 2019

Mon.

15 Jul 2019

Tue.

16 Jul 2019

Wed.

17 Jul 2019

Thu.

18 Jul 2019

Fri.

19 Jul 2019

Sat.

20 Jul 2019

Sun.

21 Jul 2019

Mon.

22 Jul 2019

Tue.

23 Jul 2019

Wed.

24 Jul 2019

Thu.

25 Jul 2019

Fri.

26 Jul 2019

Sat.

27 Jul 2019

Sun.

28 Jul 2019

Mon.

29 Jul 2019

Tue.

30 Jul 2019

Wed.

31 Jul 2019

August

Thu.

01 Aug 2019

Fri.

02 Aug 2019

Sat.

03 Aug 2019

Sun.

04 Aug 2019

Mon.

05 Aug 2019

Tue.

06 Aug 2019

Wed.

07 Aug 2019

Thu.

08 Aug 2019

Fri.

09 Aug 2019

Sat.

10 Aug 2019

Sun.

11 Aug 2019

Mon.

12 Aug 2019

Tue.

13 Aug 2019

Wed.

14 Aug 2019

Thu.

15 Aug 2019

Fri.

16 Aug 2019

Sat.

17 Aug 2019

Sun.

18 Aug 2019

Mon.

19 Aug 2019

Tue.

20 Aug 2019

Wed.

21 Aug 2019

Thu.

22 Aug 2019

Fri.

23 Aug 2019

Sat.

24 Aug 2019

Sun.

25 Aug 2019

Mon.

26 Aug 2019

Tue.

27 Aug 2019

Wed.

28 Aug 2019

Thu.

29 Aug 2019

Fri.

30 Aug 2019

Sat.

31 Aug 2019

September