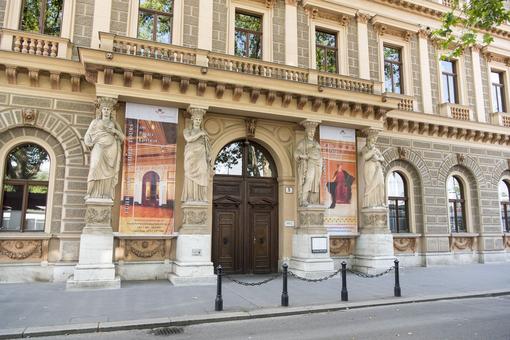 Guided Tours at Palais Epstein
The reception hall with its richly adorned ceiling, the smoking room, the ladies' boudoir – the sumptuously appointed rooms of the bel etage conjure up the past of the banker's family. A small exhibition contains heart-rending finds from the time of the Second World War and the occupation years discovered when the building was restored.
Public guided tour are held every Saturday at 10.30 am and 1.30 pm. No registration is required to participate (groups of 10 people or more on request). The tickets for the guided tours are available from the "Bau.Stelle" information point directly in front of the adjacent Parliament building.
Venue
Dr.-Karl-Renner-Ring 1
1010
Wien
Map
Current Dates
Sat.

25 Jan 2020

Sat.

01 Feb 2020

Sat.

08 Feb 2020

Sat.

15 Feb 2020

Sat.

22 Feb 2020

Sat.

29 Feb 2020

Sat.

07 Mar 2020

Sat.

14 Mar 2020

Sat.

21 Mar 2020

Sat.

28 Mar 2020
All dates
All Dates
April

Sat.

04 Apr 2020

Sat.

11 Apr 2020

Sat.

18 Apr 2020

Sat.

25 Apr 2020

May

Sat.

02 May 2020

Sat.

09 May 2020

Sat.

16 May 2020

Sat.

23 May 2020

Sat.

30 May 2020

June

Sat.

06 Jun 2020

Sat.

13 Jun 2020

Sat.

20 Jun 2020

Sat.

27 Jun 2020