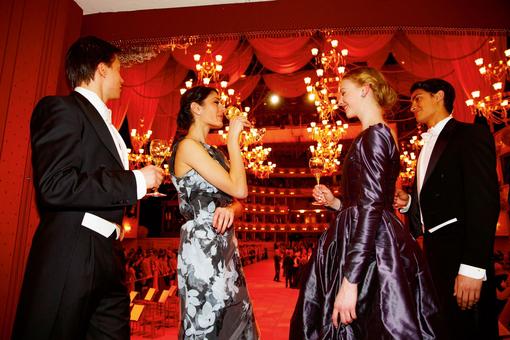 Vienna Opera Ball
These are images which are broadcast around the world every year. The opening is a
dazzling festival, with artists from all over the world taking part; the legendary entrance
of the young ladies' and gentlemen's committee; the elegantly appointed ballroom;
the exquisitely decorated House on the Ring, international guests from the world of
culture, business, politics, sports and science.
On the one hand, the Vienna Opera Ball combines the Viennese lifestyle with international allure, and on the other the modern stage management of a traditional event. This is in equal measure a high-spirited ball in a unique atmosphere and the fashionable highlight of the ball season. Over the last years, it has once again increasingly become an artists' ball: the Vienna State Opera Orchestra performs under the baton of distinguished conductors for the opening, as do the Wiener Staatsballett and international stars. Besides, the Opera Ball has once more become an extremely popular event where cultural icons from all over the world come together to celebrate.
Venue
Opernring 2
1010
Wien
Map
Tickets & Info
Wiener Staatsoper - Opernballbüro