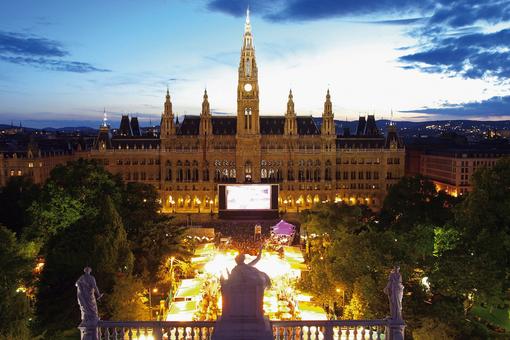 Film Festival in front of the City Hall 2018
Kid's & Family Tip
The Music Film Festival at City Hall Square is one of the most enticing offers in Vienna during the summer. It thrills 900,000 visitors annually, making it the biggest culture and food festival in Europe. 5,200 seats are available.
Something to suit every taste is also offered by the 25 or so international leading gastronomers on site as well as by the music film program, which covers every genre and is shown on the 300 m² open-air screen.
Films begin daily at nightfall
Catering 11:00 a.m until midnight
- On the Sunday, the Jazz 'Frühschoppen' combines art and food: Jazz bands play at different locations on City Hall Square (12.00 noon to 2.30 pm).
- On the Artists' Saturdays, a live musical program and unplugged offerings can be heard in City Hall Park.
- Every Friday, there are offers for children: From 2.00 pm, active program with games and sport, followed by the Children's Opera Festival from 5.00 pm on a special LED wall in City Hall Park (Wagner's The Ring of the Nibelung for children, Undine, Cinderella …).
- The Thursday is after-work evening including happy hour (Aperoltime 5.00 pm to 7.00 pm, plus cool DJ sound at the "Riva Aperol" until 8.00 pm).
Venue
Rathausplatz
1010
Wien
Current Dates
Thu.

16 Aug 2018

Fri.

17 Aug 2018

Sat.

18 Aug 2018

Sun.

19 Aug 2018

Mon.

20 Aug 2018

Tue.

21 Aug 2018

Wed.

22 Aug 2018

Thu.

23 Aug 2018

Fri.

24 Aug 2018

Sat.

25 Aug 2018
All dates
All Dates
August

Sun.

26 Aug 2018

Mon.

27 Aug 2018

Tue.

28 Aug 2018

Wed.

29 Aug 2018

Thu.

30 Aug 2018

Fri.

31 Aug 2018

September

Sat.

01 Sep 2018

Sun.

02 Sep 2018