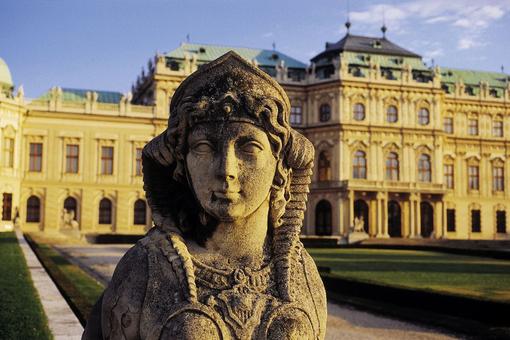 Ines Doujak. Hera
Larger than life, she kneels on a tabletop with her blouse pushed up. The only sign of her divinity is the frankincense emanating from an opening in her body. Unfazed by the viewer's gaze, in an all too human manner she plucks a hair from her chin. The intimate nature of this representation is in diametrical opposition to typical depictions of Olympian gods. This is Hera by Ines Doujak. It is with this piece that the 2018 cycle of contemporary interventions will begin in the Upper Belvedere.
The ancient goddess Hera is commonly known as the wife of Zeus, guardian of hearth and family, as well as a betrayed spouse. At the Upper Belvedere, however, she will be observed from another point of view. She grants the viewer a glimpse into an intimate, human moment. Hera by Ines Doujak represents the first in a series of interventions that will accompany the collection's revival in the Upper Belvedere starting in 2018. These works will be shown on the ground floor of the Carlone Hall and will play off the mythological frescoes within the space. In a six-month rotation format, artists will develop their perspectives in harmony with the frescoed hall's Baroque aesthetic, bridging the world of gods like Apollo and Diana from antiquity with the present day.
Venue
Prinz-Eugen-Straße 27
1030
Wien
Current Dates
Fri.

21 Sep 2018

,

9 a.m.

-

9 p.m.

Sat.

22 Sep 2018

,

9 a.m.

-

6 p.m.

Sun.

23 Sep 2018

,

9 a.m.

-

6 p.m.