Haydn explosive & Highlights of Esterházy Palace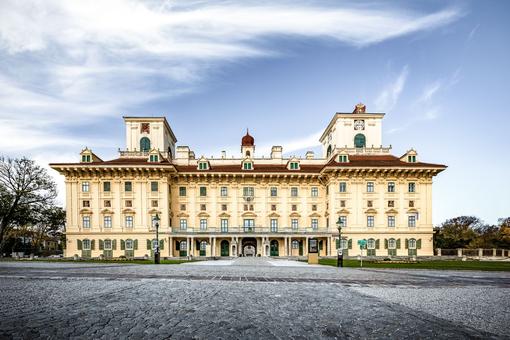 Joseph Haydn served the Esterházy princes as Hofkapellmeister and composer for over 40 years. The famous maestro, "father of the String Quartet" and "virtuoso of the ensemble", composed masses, operas, symphonies, chamber music and Hausmusik for the aristocratic family. These included the legendary "Emperor" Quartet that was played for the very first time in Eisenstadt in 1797.
Haydn explosive
Interactive displays, projections and superb exhibits convey the life of this musical genius – from his beginnings in Eisenstadt, through his stardom in London to his later work. The show also traces his impact as a composer both then and now. Visitors can admire some of the maestro's personal and professional documents and original instruments, such as the fortepiano belonging to his patroness Princess Maria Josefa Hermenegilde.
Highlights of Esterházy Palace
The permanent Highlights exhibition presents exquisite objects from the Esterhazy collection and offers glimpses of how the princes lived and celebrated. Major attractions include the Esterházy dynasty's silverware (the world's largest surviving Empire silver service produced by Würth in Vienna) and the last known console table from the workshops of Giuseppe Briati in Venice. The exhibition also offers fascinating insights into how the palace was built. In some places the historic walls and floors have been uncovered, revealing many layers of history and a detailed glimpse of the architecture through 300 years.


From November 2022 to March 2023, the exhibition will be open to the public Tuesday through Friday on a guided tour only.
Guided tour time: 13.00

[Ad]


Venue
Schloss Esterházy
Esterházyplatz
7000
Eisenstadt
Current Dates
Tue.

28 Mar 2023

Wed.

29 Mar 2023

Thu.

30 Mar 2023

Fri.

31 Mar 2023

Sat.

01 Apr 2023

,

10 a.m.

-

5 p.m.

Sun.

02 Apr 2023

,

10 a.m.

-

5 p.m.

Tue.

04 Apr 2023

,

10 a.m.

-

5 p.m.

Wed.

05 Apr 2023

,

10 a.m.

-

5 p.m.

Thu.

06 Apr 2023

,

10 a.m.

-

5 p.m.

Fri.

07 Apr 2023

,

10 a.m.

-

5 p.m.
All dates
All Dates
March

Tue.

28 Mar 2023

Wed.

29 Mar 2023

Thu.

30 Mar 2023

Fri.

31 Mar 2023

April

Sat.

01 Apr 2023

,

10 a.m.

-

5 p.m.

Sun.

02 Apr 2023

,

10 a.m.

-

5 p.m.

Tue.

04 Apr 2023

,

10 a.m.

-

5 p.m.

Wed.

05 Apr 2023

,

10 a.m.

-

5 p.m.

Thu.

06 Apr 2023

,

10 a.m.

-

5 p.m.

Fri.

07 Apr 2023

,

10 a.m.

-

5 p.m.

Sat.

08 Apr 2023

,

10 a.m.

-

5 p.m.

Sun.

09 Apr 2023

,

10 a.m.

-

5 p.m.

Mon.

10 Apr 2023

,

10 a.m.

-

5 p.m.

Tue.

11 Apr 2023

,

10 a.m.

-

5 p.m.

Wed.

12 Apr 2023

,

10 a.m.

-

5 p.m.

Thu.

13 Apr 2023

,

10 a.m.

-

5 p.m.

Fri.

14 Apr 2023

,

10 a.m.

-

5 p.m.

Sat.

15 Apr 2023

,

10 a.m.

-

5 p.m.

Sun.

16 Apr 2023

,

10 a.m.

-

5 p.m.

Tue.

18 Apr 2023

,

10 a.m.

-

5 p.m.

Wed.

19 Apr 2023

,

10 a.m.

-

5 p.m.

Thu.

20 Apr 2023

,

10 a.m.

-

5 p.m.

Fri.

21 Apr 2023

,

10 a.m.

-

5 p.m.

Sat.

22 Apr 2023

,

10 a.m.

-

5 p.m.

Sun.

23 Apr 2023

,

10 a.m.

-

5 p.m.

Tue.

25 Apr 2023

,

10 a.m.

-

5 p.m.

Wed.

26 Apr 2023

,

10 a.m.

-

5 p.m.

Thu.

27 Apr 2023

,

10 a.m.

-

5 p.m.

Fri.

28 Apr 2023

,

10 a.m.

-

5 p.m.

Sat.

29 Apr 2023

,

10 a.m.

-

5 p.m.

Sun.

30 Apr 2023

,

10 a.m.

-

5 p.m.

May

Mon.

01 May 2023

,

10 a.m.

-

5 p.m.

Tue.

02 May 2023

,

10 a.m.

-

5 p.m.

Wed.

03 May 2023

,

10 a.m.

-

5 p.m.

Thu.

04 May 2023

,

10 a.m.

-

5 p.m.

Fri.

05 May 2023

,

10 a.m.

-

5 p.m.

Sat.

06 May 2023

,

10 a.m.

-

5 p.m.

Sun.

07 May 2023

,

10 a.m.

-

5 p.m.

Tue.

09 May 2023

,

10 a.m.

-

5 p.m.

Wed.

10 May 2023

,

10 a.m.

-

5 p.m.

Thu.

11 May 2023

,

10 a.m.

-

5 p.m.

Fri.

12 May 2023

,

10 a.m.

-

5 p.m.

Sat.

13 May 2023

,

10 a.m.

-

5 p.m.

Sun.

14 May 2023

,

10 a.m.

-

5 p.m.

Tue.

16 May 2023

,

10 a.m.

-

5 p.m.

Wed.

17 May 2023

,

10 a.m.

-

5 p.m.

Thu.

18 May 2023

,

10 a.m.

-

5 p.m.

Fri.

19 May 2023

,

10 a.m.

-

5 p.m.

Sat.

20 May 2023

,

10 a.m.

-

5 p.m.

Sun.

21 May 2023

,

10 a.m.

-

5 p.m.

Tue.

23 May 2023

,

10 a.m.

-

5 p.m.

Wed.

24 May 2023

,

10 a.m.

-

5 p.m.

Thu.

25 May 2023

,

10 a.m.

-

5 p.m.

Fri.

26 May 2023

,

10 a.m.

-

5 p.m.

Sat.

27 May 2023

,

10 a.m.

-

5 p.m.

Sun.

28 May 2023

,

10 a.m.

-

5 p.m.

Mon.

29 May 2023

,

10 a.m.

-

5 p.m.

Tue.

30 May 2023

,

10 a.m.

-

5 p.m.

Wed.

31 May 2023

,

10 a.m.

-

5 p.m.

June

Thu.

01 Jun 2023

,

10 a.m.

-

5 p.m.

Fri.

02 Jun 2023

,

10 a.m.

-

5 p.m.

Sat.

03 Jun 2023

,

10 a.m.

-

5 p.m.

Sun.

04 Jun 2023

,

10 a.m.

-

5 p.m.

Tue.

06 Jun 2023

,

10 a.m.

-

5 p.m.

Wed.

07 Jun 2023

,

10 a.m.

-

5 p.m.

Thu.

08 Jun 2023

,

10 a.m.

-

5 p.m.

Fri.

09 Jun 2023

,

10 a.m.

-

5 p.m.

Sat.

10 Jun 2023

,

10 a.m.

-

5 p.m.

Sun.

11 Jun 2023

,

10 a.m.

-

5 p.m.

Tue.

13 Jun 2023

,

10 a.m.

-

5 p.m.

Wed.

14 Jun 2023

,

10 a.m.

-

5 p.m.

Thu.

15 Jun 2023

,

10 a.m.

-

5 p.m.

Fri.

16 Jun 2023

,

10 a.m.

-

5 p.m.

Sat.

17 Jun 2023

,

10 a.m.

-

5 p.m.

Sun.

18 Jun 2023

,

10 a.m.

-

5 p.m.

Tue.

20 Jun 2023

,

10 a.m.

-

5 p.m.

Wed.

21 Jun 2023

,

10 a.m.

-

5 p.m.

Thu.

22 Jun 2023

,

10 a.m.

-

5 p.m.

Fri.

23 Jun 2023

,

10 a.m.

-

5 p.m.

Sat.

24 Jun 2023

,

10 a.m.

-

5 p.m.

Sun.

25 Jun 2023

,

10 a.m.

-

5 p.m.

Tue.

27 Jun 2023

,

10 a.m.

-

5 p.m.

Wed.

28 Jun 2023

,

10 a.m.

-

5 p.m.

Thu.

29 Jun 2023

,

10 a.m.

-

5 p.m.

Fri.

30 Jun 2023

,

10 a.m.

-

5 p.m.

July

Sat.

01 Jul 2023

,

10 a.m.

-

6 p.m.

Sun.

02 Jul 2023

,

10 a.m.

-

6 p.m.

Mon.

03 Jul 2023

,

10 a.m.

-

6 p.m.

Tue.

04 Jul 2023

,

10 a.m.

-

6 p.m.

Wed.

05 Jul 2023

,

10 a.m.

-

6 p.m.

Thu.

06 Jul 2023

,

10 a.m.

-

6 p.m.

Fri.

07 Jul 2023

,

10 a.m.

-

6 p.m.

Sat.

08 Jul 2023

,

10 a.m.

-

6 p.m.

Sun.

09 Jul 2023

,

10 a.m.

-

6 p.m.

Mon.

10 Jul 2023

,

10 a.m.

-

6 p.m.

Tue.

11 Jul 2023

,

10 a.m.

-

6 p.m.

Wed.

12 Jul 2023

,

10 a.m.

-

6 p.m.

Thu.

13 Jul 2023

,

10 a.m.

-

6 p.m.

Fri.

14 Jul 2023

,

10 a.m.

-

6 p.m.

Sat.

15 Jul 2023

,

10 a.m.

-

6 p.m.

Sun.

16 Jul 2023

,

10 a.m.

-

6 p.m.

Mon.

17 Jul 2023

,

10 a.m.

-

6 p.m.

Tue.

18 Jul 2023

,

10 a.m.

-

6 p.m.

Wed.

19 Jul 2023

,

10 a.m.

-

6 p.m.

Thu.

20 Jul 2023

,

10 a.m.

-

6 p.m.

Fri.

21 Jul 2023

,

10 a.m.

-

6 p.m.

Sat.

22 Jul 2023

,

10 a.m.

-

6 p.m.

Sun.

23 Jul 2023

,

10 a.m.

-

6 p.m.

Mon.

24 Jul 2023

,

10 a.m.

-

6 p.m.

Tue.

25 Jul 2023

,

10 a.m.

-

6 p.m.

Wed.

26 Jul 2023

,

10 a.m.

-

6 p.m.

Thu.

27 Jul 2023

,

10 a.m.

-

6 p.m.

Fri.

28 Jul 2023

,

10 a.m.

-

6 p.m.

Sat.

29 Jul 2023

,

10 a.m.

-

6 p.m.

Sun.

30 Jul 2023

,

10 a.m.

-

6 p.m.

Mon.

31 Jul 2023

,

10 a.m.

-

6 p.m.

August

Tue.

01 Aug 2023

,

10 a.m.

-

6 p.m.

Wed.

02 Aug 2023

,

10 a.m.

-

6 p.m.

Thu.

03 Aug 2023

,

10 a.m.

-

6 p.m.

Fri.

04 Aug 2023

,

10 a.m.

-

6 p.m.

Sat.

05 Aug 2023

,

10 a.m.

-

6 p.m.

Sun.

06 Aug 2023

,

10 a.m.

-

6 p.m.

Mon.

07 Aug 2023

,

10 a.m.

-

6 p.m.

Tue.

08 Aug 2023

,

10 a.m.

-

6 p.m.

Wed.

09 Aug 2023

,

10 a.m.

-

6 p.m.

Thu.

10 Aug 2023

,

10 a.m.

-

6 p.m.

Fri.

11 Aug 2023

,

10 a.m.

-

6 p.m.

Sat.

12 Aug 2023

,

10 a.m.

-

6 p.m.

Sun.

13 Aug 2023

,

10 a.m.

-

6 p.m.

Mon.

14 Aug 2023

,

10 a.m.

-

6 p.m.

Tue.

15 Aug 2023

,

10 a.m.

-

6 p.m.

Wed.

16 Aug 2023

,

10 a.m.

-

6 p.m.

Thu.

17 Aug 2023

,

10 a.m.

-

6 p.m.

Fri.

18 Aug 2023

,

10 a.m.

-

6 p.m.

Sat.

19 Aug 2023

,

10 a.m.

-

6 p.m.

Sun.

20 Aug 2023

,

10 a.m.

-

6 p.m.

Mon.

21 Aug 2023

,

10 a.m.

-

6 p.m.

Tue.

22 Aug 2023

,

10 a.m.

-

6 p.m.

Wed.

23 Aug 2023

,

10 a.m.

-

6 p.m.

Thu.

24 Aug 2023

,

10 a.m.

-

6 p.m.

Fri.

25 Aug 2023

,

10 a.m.

-

6 p.m.

Sat.

26 Aug 2023

,

10 a.m.

-

6 p.m.

Sun.

27 Aug 2023

,

10 a.m.

-

6 p.m.

Mon.

28 Aug 2023

,

10 a.m.

-

6 p.m.

Tue.

29 Aug 2023

,

10 a.m.

-

6 p.m.

Wed.

30 Aug 2023

,

10 a.m.

-

6 p.m.

Thu.

31 Aug 2023

,

10 a.m.

-

6 p.m.

September

Fri.

01 Sep 2023

,

10 a.m.

-

5 p.m.

Sat.

02 Sep 2023

,

10 a.m.

-

5 p.m.

Sun.

03 Sep 2023

,

10 a.m.

-

5 p.m.

Tue.

05 Sep 2023

,

10 a.m.

-

5 p.m.

Wed.

06 Sep 2023

,

10 a.m.

-

5 p.m.

Thu.

07 Sep 2023

,

10 a.m.

-

5 p.m.

Fri.

08 Sep 2023

,

10 a.m.

-

5 p.m.

Sat.

09 Sep 2023

,

10 a.m.

-

5 p.m.

Sun.

10 Sep 2023

,

10 a.m.

-

5 p.m.

Tue.

12 Sep 2023

,

10 a.m.

-

5 p.m.

Wed.

13 Sep 2023

,

10 a.m.

-

5 p.m.

Thu.

14 Sep 2023

,

10 a.m.

-

5 p.m.

Fri.

15 Sep 2023

,

10 a.m.

-

5 p.m.

Sat.

16 Sep 2023

,

10 a.m.

-

5 p.m.

Sun.

17 Sep 2023

,

10 a.m.

-

5 p.m.

Tue.

19 Sep 2023

,

10 a.m.

-

5 p.m.

Wed.

20 Sep 2023

,

10 a.m.

-

5 p.m.

Thu.

21 Sep 2023

,

10 a.m.

-

5 p.m.

Fri.

22 Sep 2023

,

10 a.m.

-

5 p.m.

Sat.

23 Sep 2023

,

10 a.m.

-

5 p.m.

Sun.

24 Sep 2023

,

10 a.m.

-

5 p.m.

Tue.

26 Sep 2023

,

10 a.m.

-

5 p.m.

Wed.

27 Sep 2023

,

10 a.m.

-

5 p.m.

Thu.

28 Sep 2023

,

10 a.m.

-

5 p.m.

Fri.

29 Sep 2023

,

10 a.m.

-

5 p.m.

Sat.

30 Sep 2023

,

10 a.m.

-

5 p.m.

October

Sun.

01 Oct 2023

,

10 a.m.

-

5 p.m.

Tue.

03 Oct 2023

,

10 a.m.

-

5 p.m.

Wed.

04 Oct 2023

,

10 a.m.

-

5 p.m.

Thu.

05 Oct 2023

,

10 a.m.

-

5 p.m.

Fri.

06 Oct 2023

,

10 a.m.

-

5 p.m.

Sat.

07 Oct 2023

,

10 a.m.

-

5 p.m.

Sun.

08 Oct 2023

,

10 a.m.

-

5 p.m.

Tue.

10 Oct 2023

,

10 a.m.

-

5 p.m.

Wed.

11 Oct 2023

,

10 a.m.

-

5 p.m.

Thu.

12 Oct 2023

,

10 a.m.

-

5 p.m.

Fri.

13 Oct 2023

,

10 a.m.

-

5 p.m.

Sat.

14 Oct 2023

,

10 a.m.

-

5 p.m.

Sun.

15 Oct 2023

,

10 a.m.

-

5 p.m.

Tue.

17 Oct 2023

,

10 a.m.

-

5 p.m.

Wed.

18 Oct 2023

,

10 a.m.

-

5 p.m.

Thu.

19 Oct 2023

,

10 a.m.

-

5 p.m.

Fri.

20 Oct 2023

,

10 a.m.

-

5 p.m.

Sat.

21 Oct 2023

,

10 a.m.

-

5 p.m.

Sun.

22 Oct 2023

,

10 a.m.

-

5 p.m.

Tue.

24 Oct 2023

,

10 a.m.

-

5 p.m.

Wed.

25 Oct 2023

,

10 a.m.

-

5 p.m.

Thu.

26 Oct 2023

,

10 a.m.

-

5 p.m.

Fri.

27 Oct 2023

,

10 a.m.

-

5 p.m.

Sat.

28 Oct 2023

,

10 a.m.

-

5 p.m.

Sun.

29 Oct 2023

,

10 a.m.

-

5 p.m.

Tue.

31 Oct 2023

,

10 a.m.

-

5 p.m.

Fewer dates