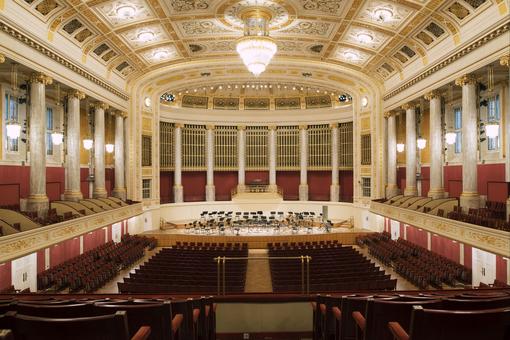 Carla Bruni: "French Touch"
Intimität und Qualität verschmelzen bei Carla Bruni zu einer mystischen Melange, mit der sie die Menschen vereinnahmt. Ihr fünftes Studio-Album «French Touch» gibt dem enigmatischen, sympathischen Star Anlass für wenige ausgewählte Konzerte. In Wien präsentiert Carla Bruni iihre eklektische Mischung aus klassischem Pop, Chanson und Folk. Im Fokus steht dabei natürlich die neue, außergewöhnliche CD, aber auch andere Meilensteine ihrer beachtlichen Karriere.
«French Touch» bezeichnet das besondere Gefühl, die französische Art, mit der Carla Bruni eine überraschende Auswahl von Coversongs interpretiert: mit scheinbar müheloser Eleganz, einem Hauch Erotik und sanftem Charme. Es sind nach eigener Aussage «die persönlichen Schätze einer sentimentalen Reise in ihre eigene Vergangenheit». Pop-Klassiker wie Depeche Modes «Enjoy the Silence», Lou Reeds «A Perfect Day» oder «Miss You» von den Rolling Stones und Evergreens wie «Moon River, Lover Hurts» sowie «Crazy» fügen sich zu einem Reigen, für den das Motto «Liebe auf den ersten Blick» gilt. Wer konnte ahnen, dass Carla Bruni ein AC/DC-Fan ist! Aber ihr Cover von «Highway to Hell» ist ein Ausrufezeichen, das sie mit der Bemerkung «Wer will schon in den Himmel?» kommentiert.
Producer-Legende David Foster hat für perfekte Arrangements und Abmischung Sorge getragen. Die Covers haben ihre ursprüngliche Anziehungskraft behalten, trotz ihrer individuellen Sinnlichkeit. Fast scheint es, als hätten Bruni und Foster sie selbst geschrieben.
Seit ihrem sensationellen Debüt als Sängerin und Komponistin mit «Quelqu'un m'a dit» hat Carla Bruni mit sanftem Charme die Aufmerksamkeit der Musikwelt auf sich gezogen. Die in Turin als Tochter eines Industriellen und einer Konzertpianistin geborene Carla Bruni wohnt seit ihrem fünften Lebensjahr in Frankreich. Mit 19 begann ihr kometenhafter Aufstieg zu einem der begehrtesten Fotomodelle der Welt. Elf Jahre bis 1998 galt sie als Attraktion des Modegeschehens, ob auf Laufsteg oder Titelbildern.
Die Musik eröffnete Carla Bruni die Chance für eine andere Seite ihres Talents. Schon ihr erstes Album mit ureigenen Titeln erreichte 2002 eine Millionenauflage und etablierte sie europaweit. 2007 dann ihre zweite CD «No Promises», auf der sie englische Lyrik von William Butler Yeats bis Emily Dickinson und Walter de la Mare vertonte. Auch das dritte Album «Comme si de rien n'était» erreichte wie seine Vorgänger die Nr. 1 der französischen sowie völlig überraschend die Nr. 3 der englischen Charts. 2014 ihre vierte CD «Little French Songs» mit einer Auswahl von «kleinen» französischen Liedern.
Venue
Grosser Saal
Lothringerstraße 20
1030
Wien