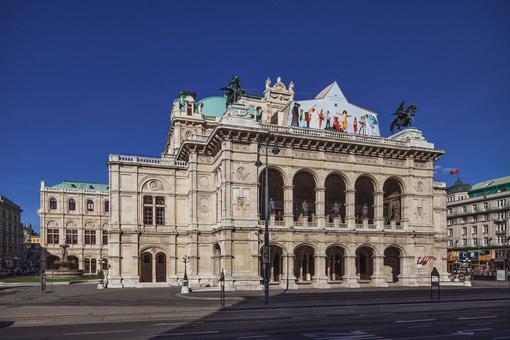 Dantons Tod
Direction: Josef Ernst Köpplinger
Premiere: 24. 3. 2018
For many decades, no less than four operas (including two world premières) and
five ballets (including two world premières) by Gottfried von Einem belonged to the
repertoire at the Wiener Staatsoper. To mark the occasion of the 100th anniversary
of the composer's birth, the work that catapulted him to international fame at the
Salzburg Festival in 1947 returns to the opera house on the Ring: Dantons Tod. Von
Einem had brilliantly recreated Büchner's Revolution tragedy for music theatre and,
following the postulate of his teacher Boris Blacher, had interwoven the musical and
the theatrical in such a way that the dramatic episodes are optimally communicated
in music to the audience.
Tickets can be ordered immediatly on the Internet: www.wiener-staatsoper.at
Remaining non-assogned tickets can normally be purchased two month before the performance date (e.g. on 1st September for 1st November, on 30th September for 30th November. Tickets for performances between 1st and 30th September will be sold from 1st to 30th May and for 1st to 31st October from 1st to 30th June)
- via Internet: www.staatsoper.at, www.culturall.com
- for credit card holders: Tel: +43 1 513 1 513, Mon. to Sun. 10 a.m. to 7 p.m.
- box office sales: Bundestheater ticket office (1., Operngasse 2), Burgtheater (1., Universitätsring 2), Volksoper (9., Währinger Strasse 78): Mon. to Fri. 8 a.m. to 6 p.m., Sat., Sun. and holidays: 9 a.m. to 12 noon
Standing room tickets are sold starting 80 minutes before curtain time at the standing room box office (entrance Operngasse) only.
Venue
Opernring 2
1010
Wien
Current Dates
Sat.

24 Mar 2018

,

7 p.m.

Tue.

27 Mar 2018

,

7 p.m.

Sat.

31 Mar 2018

,

7 p.m.

Tue.

03 Apr 2018

,

8 p.m.

Fri.

06 Apr 2018

,

7 p.m.

Mon.

09 Apr 2018

,

7 p.m.