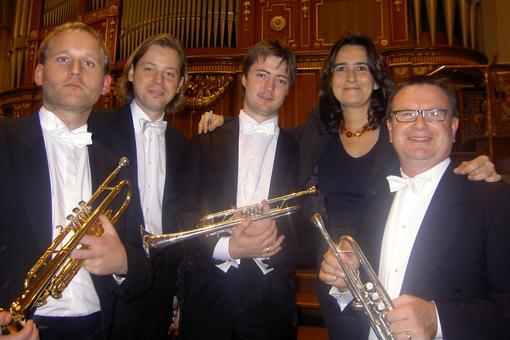 Trumpets in Concert - A very special Christmas
Die Weihnachtskonzerte der Trumpets in Concert bedeuten seit vielen Jahren für tausende Familien einen festlichen und gefühlvollen Höhepunkt der Weihnachtszeit. Traditionelle Weihnachtslieder, klassische Stücke, Balladen und Ohrwürmer lassen uns die Freude und Würde des Weihnachtsfestes hautnah spüren. A Very Special Christmas ist ein besonderer Abend, festlich, nachdenklich, fröhlich und voll Geborgenheit.
Leonhard Leeb, Gernot Kahofer, Manuel Lichtenwöhrer - Trompeten
Thomas Mair - Percussion & Pauke
Bernhard Macheiner – Orgel & Keyboard
Georg F. HÄNDEL: Tochter Zion, freue dich! aus Judas Maccabäus
Antonio VIVALDI: Allegro aus dem Concerto Per Due Trombe C-Dur
Traditional/PACHELBEL: The First Noel / Pachelbel's Canon
Fred J. COOT: Santa Claus Is Comin' To Town
Elvis PRESLEY: Blue Christmas
Felix BERNARD: Winter Wonderland
TURMBLASEN: Hirtenlieder und Weihnachtliche Weisen
Percy FAITH: Brazilian Sleighbells
Und weitere Werke
Die Künstler spielen im Altarraum.
Die Kirche ist geheizt!
Sitzplätze sind nummeriert.
Venue
Minoritenplatz 2a
1010
Wien
Current Dates
Sat.

09 Dec 2017

,

7:30 p.m.

Thu.

14 Dec 2017

,

7:30 p.m.

Sat.

16 Dec 2017

,

7:30 p.m.