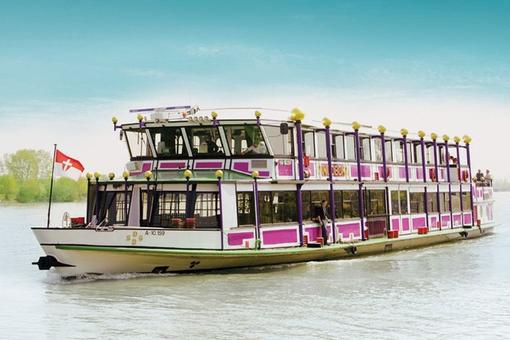 Grand Danube River Cruise
From the Reichsbrücke or Marina Wien station onwards, we show you 'modern Vienna' with its Danube plateau skyline, Danube Tower and Millenium Tower. Via the Nussdorf lock system, we reach the Danube Canal, where you will experience
'historic Vienna' as well as interesting architecture: The Hundertwasser District Heating Plant in Spittelau, the Roßau Barracks, Ringturm, the Urania observatory and much more. The tour terminates in Vienna's centre at Schwedenplatz station.
Venue
Handelskai 265
1020
Wien
Map
Tickets & Info
Detailliertes Programm
Current Dates
Thu.

17 Oct 2019

Fri.

18 Oct 2019

Sat.

19 Oct 2019

Sun.

20 Oct 2019

Mon.

21 Oct 2019

Tue.

22 Oct 2019

Wed.

23 Oct 2019

Thu.

24 Oct 2019

Fri.

25 Oct 2019

Sat.

26 Oct 2019
All dates
All Dates
October

Sun.

27 Oct 2019

Mon.

28 Oct 2019

Tue.

29 Oct 2019

Wed.

30 Oct 2019

Thu.

31 Oct 2019

November

Fri.

01 Nov 2019

Sat.

02 Nov 2019

Sun.

03 Nov 2019