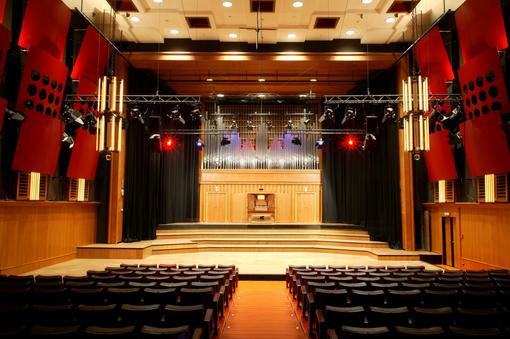 Cornelius Obonya & Gerald Preinfalk: Einladung zum Tanz
Cornelius Obonya liest aus dem zwölfbändigen Romanzyklus "A Dance to the Music of Time" des englischen Romanciers Anthony Powell (1905–2000).
Peter Kislinger hat aus den mehr als eine Million Worten einen Lesetanz zur Musik von Gerald Preinfalk choreografiert. Die Übertragung dieses humoristischen Meisterwerks ins Deutsche ist bis zum siebenten Band fortgeschritten und soll 2019 abgeschlossen sein. Die mit allen klassischen, modernen und postmodernen Wassern (Pastiche, komplexe Rahmungen, Perspektiven- und Registerwechsel etc.) gewaschenen Romane sind ein Panorama des gesellschaftlichen, politischen, militärischen und künstlerischen Wandels Großbritanniens von 1914 bis 1975. Dem präzisen, skeptischen und ironischen Blick des Autors entgehen weder Ideologien bzw. Machtbesessene, allen voran Widmerpool – eine der großen tragikomischen Figuren der Weltliteratur –, noch die heimliche Hauptfigur, Nicholas Jenkins. Wie die Zeit, dies "sonderbare Ding", wirkt, wird an einer sich aus allen Schichten rekrutierenden Hundertschaft an unvergesslichen Figuren nachvollziehbar. Weitere Lesungen aus dem zwischen 1951 und 1975 erschienenen, für Cornelius Obonyas Menschendarstellungskunst wie geschaffenen, Zyklus folgen. Cornelius Obonya ging mit 17 Jahren ans Max Reinhardt Seminar, verließ es aber nach einem Jahr und lernte bei dem Kabarettisten Gerhard Bronner, von dessen Unterricht er nach eigener Aussage bis heute zehrt. Seit 2000 ist Obonya Ensemblemitglied des Burgtheaters, unter seinen zahlreichen Auszeichnungen ist auch jene zum "Schauspieler des Jahres" 2010 im Rahmen der "Langen Nacht des Hörspiels". Musik wurde für den aus Oberösterreich stammenden Gerald Preinfalk ab 1990 mit dem Studium an der mdw bei Oto Vrhovnik (klassisches Saxofon) und Wolfgang Puschnig (Jazz) zur Berufung. Stipendien führten ihn ans Bostoner Berklee College of Music und nach Paris. Seit dem Jahr 2000 ist Preinfalk Mitglied des Klangforum Wien, Gastspiele führten ihn zu Orchestern wie den Wiener Philharmonikern, dem Staatsorchester Stuttgart und verschiedensten Jazz-Ensembles, u.a. mit George Garzone, Terry Bozzio, Alegre Correa, Wolfgang und Christian Muthspiel. Namhafte Komponisten wie Bernhard Lang oder Simone Movio schrieben für ihn Auftragswerke für Ensemble oder auch Orchester (2005 mit den Wiener Symphonikern). Eigene Projekte reichen von Kammermusik mit Klavier und Saxofonorchester über Theatermusik bis hin zu Formationen freier improvisierter Musik (Paier/Preinfalk, Art of Duo, Giuffre Zone etc.). Seit 2012 ist Gerald Preinfalk Univ.-Prof. für klassisches Saxofon an der Kunstuniversität Graz.
Venue
Grosser Sendesaal
Argentinierstrasse 30a
1040
Wien
Current Dates
Wed.

22 Feb 2017

,

7:30 p.m.