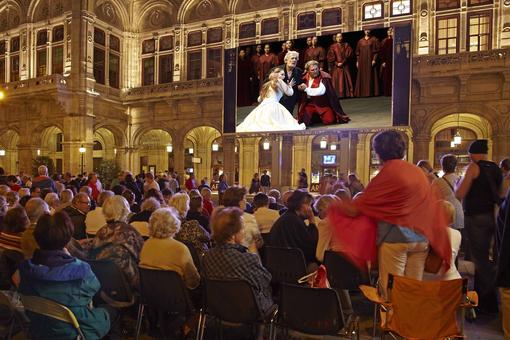 Live Opera on the Square - New Year's Eve 2019
From December 27, 2019 to January 1, 2020, the complete program is broadcast live from the Vienna State Opera on a giant outdoor screen right in front of the Opera House on Herbert-von-Karajan-Platz. In the afternoon of New Year's Eve, and from straight after the live broadcast of "Die Fledermaus" till midnight, a potpourri selection from historical and current productions is shown.
The live broadcast of the New Year's Concert of the Vienna Philharmonic can also be seen here on January 1.
27.12. Hänsel und Gretel von E. Humperdinck
28.12. Ballett: Le Corsaire
29.12. PersinetteBallett: Le Corsaire
30.12. Hänsel und Gretel
31.12. Die Fledermaus von J. Strauss
1.1. Die Fledermaus von J. Strauss
Venue
Opernring 2
1010
Wien
Map
Tickets & Info
Eintritt frei/free entrance
Current Dates
Fri.

27 Dec 2019

Sat.

28 Dec 2019

Sun.

29 Dec 2019

Mon.

30 Dec 2019

Tue.

31 Dec 2019

Wed.

01 Jan 2020