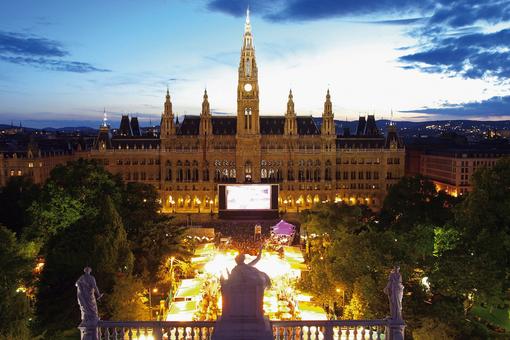 Film Festival in front of the City Hall 2017
Einer der Spots der sommerlichen Stadt: der Wiener Rathausplatz. Mit Superhits der Klassik auf einer Riesenleinwand und bei freiem Eintritt und kulinarischen Angeboten aus aller Welt.
Vom 1. Juli bis 3. September 2017 ist es wieder soweit – das 27. Film Festival am Rathausplatz geht wie gewohnt in der vollen Länge von 65 Tagen über die Bühne. Und um den Vorhang ein klein wenig zu lüften, kann schon so viel über die Programm-Ideen 2017 verraten werden:
Zum 27. Film Festival ist als ein Schwerpunkt der sogenannte "Club 27" oder "Forever 27 Club" angedacht. Unter diesem Begriff finden sich Musiker, die mit 27 Jahren starben, wie etwa Amy Winehouse, Kurt Cobain, Jimmy Hendrix und Janis Choplin. Auch Konzert-Aufnahmen von beeindruckenden Geburtstags-Jubilaren sind für das Programm ins Auge gefasst: Kurt Cobain (50), Jimmy Hendrix (75), Elton John (70), Barbra Streisand (75), Ella Fitzgerald und Dean Martin (beide 100).
Und natürlich stehen auch Inszenierungen großer Opernhäuser wie der Mailänder Scala oder der Wiener Staatsoper und Spitzenorchester wie die Wiener Philharmoniker und die Wiener Symphoniker als Highlights am Spielplan 2017.
Täglich bei Einbruch der Dunkelheit: 1. 7. ca. 21.30 Uhr.... 1. 8. ca. 21 Uhr..... 31. 8. ca. 20.20 Uhr
Venue
Rathausplatz
1010
Wien
Current Dates
Fri.

30 Jun 2017

Sat.

01 Jul 2017

Sun.

02 Jul 2017

Mon.

03 Jul 2017

Tue.

04 Jul 2017

Wed.

05 Jul 2017

Thu.

06 Jul 2017

Fri.

07 Jul 2017

Sat.

08 Jul 2017

Sun.

09 Jul 2017
All dates
All Dates
July

Mon.

10 Jul 2017

Tue.

11 Jul 2017

Wed.

12 Jul 2017

Thu.

13 Jul 2017

Fri.

14 Jul 2017

Sat.

15 Jul 2017

Sun.

16 Jul 2017

Mon.

17 Jul 2017

Tue.

18 Jul 2017

Wed.

19 Jul 2017

Thu.

20 Jul 2017

Fri.

21 Jul 2017

Sat.

22 Jul 2017

Sun.

23 Jul 2017

Mon.

24 Jul 2017

Tue.

25 Jul 2017

Wed.

26 Jul 2017

Thu.

27 Jul 2017

Fri.

28 Jul 2017

Sat.

29 Jul 2017

Sun.

30 Jul 2017

Mon.

31 Jul 2017

August

Tue.

01 Aug 2017

Wed.

02 Aug 2017

Thu.

03 Aug 2017

Fri.

04 Aug 2017

Sat.

05 Aug 2017

Sun.

06 Aug 2017

Mon.

07 Aug 2017

Tue.

08 Aug 2017

Wed.

09 Aug 2017

Thu.

10 Aug 2017

Fri.

11 Aug 2017

Sat.

12 Aug 2017

Sun.

13 Aug 2017

Mon.

14 Aug 2017

Tue.

15 Aug 2017

Wed.

16 Aug 2017

Thu.

17 Aug 2017

Fri.

18 Aug 2017

Sat.

19 Aug 2017

Sun.

20 Aug 2017

Mon.

21 Aug 2017

Tue.

22 Aug 2017

Wed.

23 Aug 2017

Thu.

24 Aug 2017

Fri.

25 Aug 2017

Sat.

26 Aug 2017

Sun.

27 Aug 2017

Mon.

28 Aug 2017

Tue.

29 Aug 2017

Wed.

30 Aug 2017

Thu.

31 Aug 2017

September

Fri.

01 Sep 2017

Sat.

02 Sep 2017

Sun.

03 Sep 2017