New Year's Eve Concert of the Vienna Philharmonic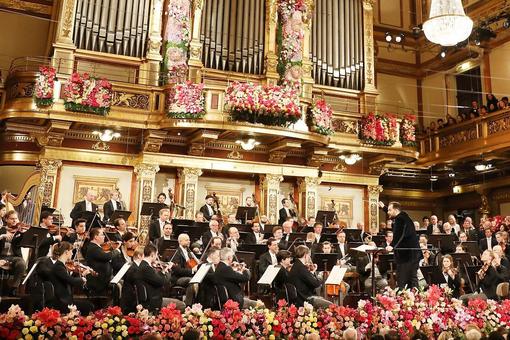 Conductor: Christian Thielemann
The Vienna Philharmonic gives its New Year's Eve and New Year's Concert in the Golden Hall of the Musikverein. The whole world looks on and joins in the celebrations of the first day of the new year.
The New Year's Eve and New Year's Concert by the Vienna Philharmonic combine the best of the best: The cheerfully lively, but also somewhat reflective program of music with compositions by the Strauss dynasty and its contemporaries, ensures a good start to the still young year. The most Viennese music ever written is performed, from the waltz to the polka, interpreted with artistically value.
Program:
Karl Komzák: Erzherzog Albrecht-Marsch, op. 136
Johann Strauss II.: Wiener Bonbons. Walzer, op. 307
Johann Strauss II.: Figaro-Polka. Polka française, op. 320
Josef Hellmesberger (Sohn): Für die ganze Welt. Walzer
Eduard Strauss: Ohne Bremse. Polka schnell, op. 238
Johann Strauss II.: Ouvertüre zur Operette "Waldmeister"
Johann Strauss II.: Ischler Walzer. Nachgelassener Walzer Nr. 2
Johann Strauss II.: Nachtigall-Polka, op. 222
Eduard Strauss: Die Hochquelle. Polka mazur, op. 114
Johann Strauss II.: Neue Pizzicato-Polka. op. 449
Josef Hellmesberger (Sohn): Estudiantina-Polka aus dem Ballett "Die Perle von Iberien"
Carl Michael Ziehrer: Wiener Bürger. Walzer, op. 419
Anton Bruckner: Quadrille, WAB 121 (Orchestr. W. Dörner)
Hans Christian Lumbye: Glædeligt Nytaar! Galopp
Josef Strauss: Delirien. Walzer, op. 212


Tickets: Due to extremely high demand, tickets for the three traditional end of year concerts of the Vienna Philharmonic (Dec. 30, 11 am; Dec. 31, 7:30 pm; and Jan 1, 11:15 am) are drawn by lot over this website at the beginning of each year. In this way, music lovers from all over the world have an equal chance to purchase these highly desired tickets. Between February 1 and 28, 2024, applications will be accepted to take part in the drawing for tickets to the end of year concerts 2024/25.
No tickets for the New Year's Concert on sale at the Musikverein!
Venue
Grosser Saal
Musikvereinsplatz 1
1010
Wien
Current Dates
Sun.

31 Dec 2023

,

7:30 p.m.