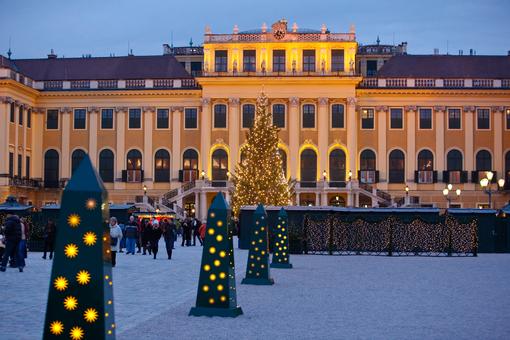 Art and Christmas Market & New Year's Market in front of Schönbrunn Palace 2017
Family Tip
Christmas Market (18 Nov-26 Dec):
daily 10 a.m.—9 p.m.
24 Dec 10 a.m.—4 p.m.
New Year's Market (27 Dec-1 Jan):
daily 10 a.m.—6 p.m.
The Culture and Christmas Market in front of Schönbrunn Palace is held on the cour d'honneur of this former Habsburg summer residence. The romantic market stocks a rich selection of traditional handicrafts, handmade jewelry and rustic decorations for the Christmas tree.
Venue
Schönbrunner Schlossstraße
1130
Wien
Current Dates
Sat.

18 Nov 2017

Sun.

19 Nov 2017

Mon.

20 Nov 2017

Tue.

21 Nov 2017

Wed.

22 Nov 2017

Thu.

23 Nov 2017

Fri.

24 Nov 2017

Sat.

25 Nov 2017

Sun.

26 Nov 2017

Mon.

27 Nov 2017
All dates
All Dates
November

Tue.

28 Nov 2017

Wed.

29 Nov 2017

Thu.

30 Nov 2017

December

Fri.

01 Dec 2017

Sat.

02 Dec 2017

Sun.

03 Dec 2017

Mon.

04 Dec 2017

Tue.

05 Dec 2017

Wed.

06 Dec 2017

Thu.

07 Dec 2017

Fri.

08 Dec 2017

Sat.

09 Dec 2017

Sun.

10 Dec 2017

Mon.

11 Dec 2017

Tue.

12 Dec 2017

Wed.

13 Dec 2017

Thu.

14 Dec 2017

Fri.

15 Dec 2017

Sat.

16 Dec 2017

Sun.

17 Dec 2017

Mon.

18 Dec 2017

Tue.

19 Dec 2017

Wed.

20 Dec 2017

Thu.

21 Dec 2017

Fri.

22 Dec 2017

Sat.

23 Dec 2017

Sun.

24 Dec 2017

Mon.

25 Dec 2017

Tue.

26 Dec 2017

Wed.

27 Dec 2017

Thu.

28 Dec 2017

Fri.

29 Dec 2017

Sat.

30 Dec 2017

Sun.

31 Dec 2017

January 2018