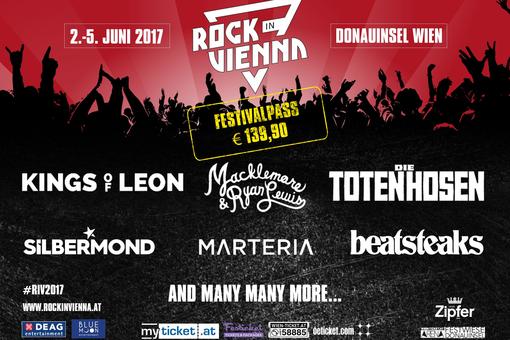 Rock in Vienna 2017
The third edition of the urban festival Rock in Vienna 2017 will be 4 days long for the very first time - from June 2nd to 5th - the perfect reason to spend the Pentecost weekend in Vienna! And one day more also allows a wider range of international artists. So after two successful years with mainly rock & metal, the festival will now also present other genres such as hip-hop, pop or punk.
FOLLOWING HEADLINERS CONFIRMED:
Kings Of Leon
Kings Of Leon have sold more than 42 million records. Next year Caleb (guitar / vocals), Nathan (drums), Jared (bass) and Matthew Followill (guitar) will finally start touring again and will also headline this year´s Rock In Vienna Festival. Their seventh studio album "Walls" debuted simultaneously at #1 in the Billboard Charts, the UK and Austria's Top40. We are looking forward to a gigantic live show.
Macklemore & Ryan Lewis
It's often a long way from the underground genius to the superstar: In 2006, the US hip hop duo met on MySpace, two years later their musical collaboration began, in 2009 the first EP appeared. From then on, the band has been fast-growing: Their 2012 album THE HEIST has been awarded with 4 Grammy Awards, and the single releases have blocked the top ranks of the charts worldwide for weeks. THE UNRULY MESS I'VE MADE followed in 2016, 10 years after the beginning of Macklemore & Ryan Lewis and lived up to success of THE HEIST.
Die Toten Hosen
Already confirmed to play at the festival on the Danube Island on the 5th of June (Whitmonday) are "Die Toten Hosen", tickets are already available. The five guys from Düsseldorf and the city of Vienna have a long and special friendship, so it is not surprising that after many concerts at the Viennese Burgtheater they are going to do themselves the honour of playing on the island for their 35th band anniversary.
Silbermond
Pop can be profound and so you should precisely lend your ear to Silbermond. In addition to many well-known and million-times sold melodies, one finds lyrics that can be very revealing and touching. Their latest work "Mit leichtem Gepäck" was recorded at the famous Blackbird Studio B in Nashville (as is also Kings of Leon's "Sex on Fire"), and singer Steffi lends her voice to the cool porcupine "Ash" in the new movie "Sing". And because everything is going just as well, a show at the RIV also fits.
Beatsteaks
They are by far the best live band of the hemisphere, mentioned together with the biggest German rock bands and they convey a live spirit that hits the roof. With songs such as "DNA", "Make a Wish" and "Gentleman of the Year", their latest and eponymous album "Beatsteaks" lives up to their previous successes. "I do not care as long as you sing": After a concert of the Beatsteaks no one wants to go home! No, you want to stay, dance and celebrate. We look forward to the full load of punk rock and a gigantic live show at Rock In Vienna 2017.
Marteria
In the last three years, Marteria has not only won prizes as Best Live Act and Best Artist, for "Zum Glück in die Zukunft " he received gold, for "Lila Wolken" he even won platinum and with "Kids (2 Finger an den Kopf)" he breaks the dissonance between adulthood and childhood, which makes him one of the most successful artists in the German-speaking countries. Playing provocatively, humorously and at the same time melancholically, he creates a sound far beyond hip-hop. Evolution is written with an "R" - on the album as well as live - you can look forward to an outstanding live performance at the Rock In Vienna 2017.
Venue
Donauinsel
1210
Wien
Tickets & Info
Wien-Ticket
Current Dates
Fri.

02 Jun 2017

Sat.

03 Jun 2017

Sun.

04 Jun 2017

Mon.

05 Jun 2017