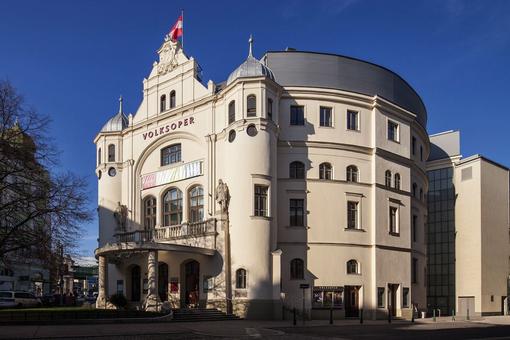 Hoffmanns Erzählungen
Direction and Choreography: Renaud Doucet
Premiere: 15. 10. 2016
In 1881 a fire broke out at Vienna's Ringtheater during a performance of "Hoffmann", and the orchestral material was later destroyed in a fire at the Parisian Opéra Comique. Was this the devil himself getting revenge for his satirical treatment in Offenbach's operetta "Orpheus in the Underworld"? In any case,
the devil also plays a central role in "The Tales of Hoffmann" by thwarting all of the titular hero's love affairs. Hoffmann's faithful Muse leads him back to the thing which enraptures and comforts him the most: art.
Advance sales start from the first of each month for performances both for the current month and also the following month (for October performances from September 1st, tickets for September may be purchased from June 1st). Telephone ticket sales for holders of credit cards: +43 (1) 513 1 513, daily 10 a.m. to 9 p.m. /
Box Offices:1., Operngasse 2 & Volksoper (9., Währinger Strasse 78) & Burgtheater (1., Dr.-Karl-Lueger-Ring 2): Mon-Fri 8 a.m.-6 p.m., Sat, Sun & holiday 9 a.m.-noon
Internet ticket sales - see web-addresses below.
Venue
Währinger Straße 78
1090
Wien