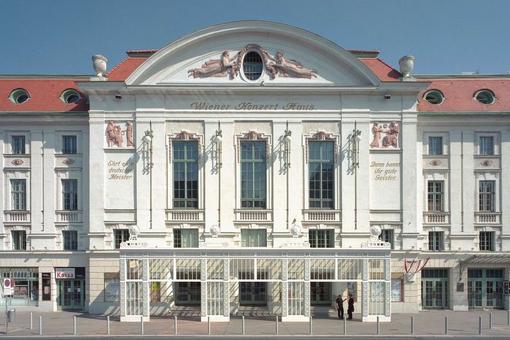 38. Internationales Musikfest
Pierre Boulez's fascination with metamorphosis and the continuous development of his own compositions is never clearer than in his cycle «Notations». It was Boulez's friend and companion, Daniel Barenboim, who gave the world premieres of «Notations I-IV» 35 years ago. Now, to mark the opening of the 38th Internationales Musikfest, Barenboim will again conduct Boulez's fascinating orchestral pieces with the Vienna Philharmonic. But the Internationales Musikfest, which uplifts audiences with its openness, will not only focus on the works of the French avant-garde composer: top international soloists, musicians, ensembles and orchestras will celebrate the most beautiful season of the year with a kaleidoscope of vocal, chamber and orchestral works in an artistic highpoint of entire concert year.
Programm will be available from mid-February 2017.
Venue
Lothringerstraße 20
1030
Wien
Current Dates
Sun.

14 May 2017

Mon.

15 May 2017

Tue.

16 May 2017

Wed.

17 May 2017

Thu.

18 May 2017

Fri.

19 May 2017

Sat.

20 May 2017

Sun.

21 May 2017

Mon.

22 May 2017

Tue.

23 May 2017
All dates
All Dates
May

Wed.

24 May 2017

Thu.

25 May 2017

Fri.

26 May 2017

Sat.

27 May 2017

Sun.

28 May 2017

Mon.

29 May 2017

Tue.

30 May 2017

Wed.

31 May 2017

June

Thu.

01 Jun 2017

Fri.

02 Jun 2017

Sat.

03 Jun 2017

Sun.

04 Jun 2017

Mon.

05 Jun 2017

Tue.

06 Jun 2017

Wed.

07 Jun 2017

Thu.

08 Jun 2017

Fri.

09 Jun 2017

Sat.

10 Jun 2017

Sun.

11 Jun 2017

Mon.

12 Jun 2017

Tue.

13 Jun 2017

Wed.

14 Jun 2017

Thu.

15 Jun 2017

Fri.

16 Jun 2017

Sat.

17 Jun 2017

Sun.

18 Jun 2017

Mon.

19 Jun 2017

Tue.

20 Jun 2017

Wed.

21 Jun 2017

Thu.

22 Jun 2017

Fri.

23 Jun 2017