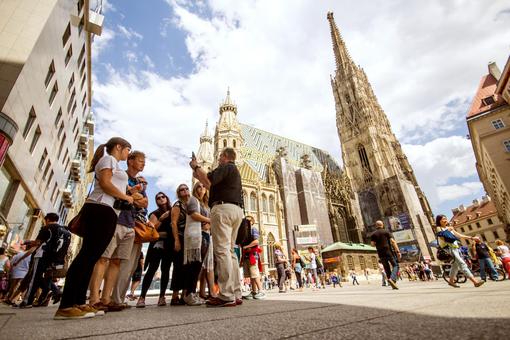 Introducing Vienna
2 hours outdoor walking tour from St. Michael's square to St. Stephens's square, including Imperial palace, Heroes square" Josef square, Albertina square, etc. The tour will take place at any weather conditions.
Tuesday, Thursday, Saturday at 12 noon.

Additional scheduled tours:
April 8th until April 16th, (Easter).
June 1st until September 30t.
Adult € 25,- Seniors from 60 years & Juniors 6 to 13 years € 15,-, Children up to 5 years € 0,
Meeting point:On Michaelerplatz# 3, in front of the Bank-Raiffeisen
Only 3 min. from the U3 underground station "Herrengasse"
Tickets & Info
Herbert Stojaspal
Current Dates
Fri.

21 Jul 2017

,

9:30 a.m.

Sat.

22 Jul 2017

,

noon

Sun.

23 Jul 2017

,

9:30 a.m.

Tue.

25 Jul 2017

,

noon

Wed.

26 Jul 2017

,

9:30 a.m.

Thu.

27 Jul 2017

,

noon

Fri.

28 Jul 2017

,

9:30 a.m.

Sat.

29 Jul 2017

,

noon

Sun.

30 Jul 2017

,

9:30 a.m.

Tue.

01 Aug 2017

,

noon
All dates
All Dates
August

Wed.

02 Aug 2017

,

9:30 a.m.

Thu.

03 Aug 2017

,

noon

Fri.

04 Aug 2017

,

9:30 a.m.

Sat.

05 Aug 2017

,

noon

Sun.

06 Aug 2017

,

9:30 a.m.

Tue.

08 Aug 2017

,

noon

Wed.

09 Aug 2017

,

9:30 a.m.

Thu.

10 Aug 2017

,

noon

Fri.

11 Aug 2017

,

9:30 a.m.

Sat.

12 Aug 2017

,

noon

Sun.

13 Aug 2017

,

9:30 a.m.

Tue.

15 Aug 2017

,

noon

Wed.

16 Aug 2017

,

9:30 a.m.

Thu.

17 Aug 2017

,

noon

Fri.

18 Aug 2017

,

9:30 a.m.

Sat.

19 Aug 2017

,

noon

Sun.

20 Aug 2017

,

9:30 a.m.

Tue.

22 Aug 2017

,

noon

Wed.

23 Aug 2017

,

9:30 a.m.

Thu.

24 Aug 2017

,

noon

Fri.

25 Aug 2017

,

9:30 a.m.

Sat.

26 Aug 2017

,

noon

Sun.

27 Aug 2017

,

9:30 a.m.

Tue.

29 Aug 2017

,

noon

Wed.

30 Aug 2017

,

9:30 a.m.

Thu.

31 Aug 2017

,

noon

September

Fri.

01 Sep 2017

,

9:30 a.m.

Sat.

02 Sep 2017

,

noon

Sun.

03 Sep 2017

,

9:30 a.m.

Tue.

05 Sep 2017

,

noon

Wed.

06 Sep 2017

,

9:30 a.m.

Thu.

07 Sep 2017

,

noon

Fri.

08 Sep 2017

,

9:30 a.m.

Sat.

09 Sep 2017

,

noon

Sun.

10 Sep 2017

,

9:30 a.m.

Tue.

12 Sep 2017

,

noon

Wed.

13 Sep 2017

,

9:30 a.m.

Thu.

14 Sep 2017

,

noon

Fri.

15 Sep 2017

,

9:30 a.m.

Sat.

16 Sep 2017

,

noon

Sun.

17 Sep 2017

,

9:30 a.m.

Tue.

19 Sep 2017

,

noon

Wed.

20 Sep 2017

,

9:30 a.m.

Thu.

21 Sep 2017

,

noon

Fri.

22 Sep 2017

,

9:30 a.m.

Sat.

23 Sep 2017

,

noon

Sun.

24 Sep 2017

,

9:30 a.m.

Tue.

26 Sep 2017

,

noon

Wed.

27 Sep 2017

,

9:30 a.m.

Thu.

28 Sep 2017

,

noon

Fri.

29 Sep 2017

,

9:30 a.m.

Sat.

30 Sep 2017

,

noon