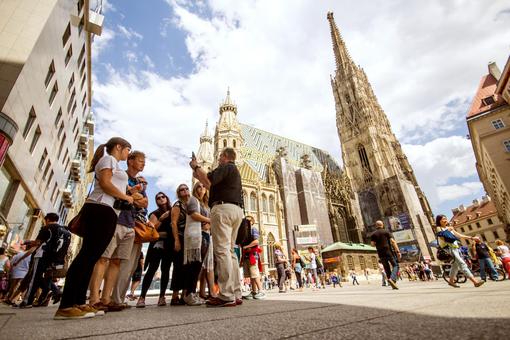 Introducing Vienna
2 hours outdoor walking tour from St. Michael's square to St. Stephens's square, including Imperial palace, Heroes square" Josef square, Albertina square, etc. The tour will take place at any weather conditions.
Tuesday, Thursday, Saturday at 12 noon.
Additional scheduled tours:
Wednesday, Friday and Sunday at 9:30 AM.
2016 ON:
December 27th until December 30th.
2017 ON:
January 3rd until January 7th.
April 8th until April 16th, (Easter).
June 1st until September 30t.
No tours:
December 24th.
December 25th.
December 26th.
December 31st.
January 1st.
Adult € 25,- Seniors from 60 years & Juniors 6 to 13 years € 15,-, Children up to 5 years € 0,-
Meeting point on Michaelerplatz in front of the ruins across the church
Coordinates N48° 12′ 28.897″ E16° 22′ 0.826″
Drop off on St. Stephan's square Subway line 1/U3
Tickets & Info
Herbert Stojaspal
Current Dates
Thu.

08 Dec 2016

,

noon

Sat.

10 Dec 2016

,

noon

Tue.

13 Dec 2016

,

noon

Thu.

15 Dec 2016

,

noon

Sat.

17 Dec 2016

,

noon

Tue.

20 Dec 2016

,

noon

Thu.

22 Dec 2016

,

noon

Tue.

27 Dec 2016

,

noon

Wed.

28 Dec 2016

,

9:30 a.m.

Thu.

29 Dec 2016

,

noon
All dates
All Dates
December

Fri.

30 Dec 2016

,

9:30 a.m.

January 2017

Tue.

03 Jan 2017

,

noon

Wed.

04 Jan 2017

,

9:30 a.m.

Thu.

05 Jan 2017

,

noon

Fri.

06 Jan 2017

,

9:30 a.m.

Sat.

07 Jan 2017

,

noon

Sun.

08 Jan 2017

,

9:30 a.m.

Tue.

10 Jan 2017

,

noon

Thu.

12 Jan 2017

,

noon

Sat.

14 Jan 2017

,

noon

Tue.

17 Jan 2017

,

noon

Thu.

19 Jan 2017

,

noon

Sat.

21 Jan 2017

,

noon

Tue.

24 Jan 2017

,

noon

Thu.

26 Jan 2017

,

noon

Sat.

28 Jan 2017

,

noon

Tue.

31 Jan 2017

,

noon

February 2017

Thu.

02 Feb 2017

,

noon

Sat.

04 Feb 2017

,

noon

Tue.

07 Feb 2017

,

noon

Thu.

09 Feb 2017

,

noon

Sat.

11 Feb 2017

,

noon

Tue.

14 Feb 2017

,

noon

Thu.

16 Feb 2017

,

noon

Sat.

18 Feb 2017

,

noon

Tue.

21 Feb 2017

,

noon

Thu.

23 Feb 2017

,

noon

Sat.

25 Feb 2017

,

noon

Tue.

28 Feb 2017

,

noon

March 2017

Thu.

02 Mar 2017

,

noon

Sat.

04 Mar 2017

,

noon

Tue.

07 Mar 2017

,

noon

Thu.

09 Mar 2017

,

noon

Sat.

11 Mar 2017

,

noon

Tue.

14 Mar 2017

,

noon

Thu.

16 Mar 2017

,

noon

Sat.

18 Mar 2017

,

noon

Tue.

21 Mar 2017

,

noon

Thu.

23 Mar 2017

,

noon

Sat.

25 Mar 2017

,

noon

Tue.

28 Mar 2017

,

noon

Thu.

30 Mar 2017

,

noon

April 2017

Sat.

01 Apr 2017

,

noon

Tue.

04 Apr 2017

,

noon

Thu.

06 Apr 2017

,

noon

Sat.

08 Apr 2017

,

noon

Sun.

09 Apr 2017

,

9:30 a.m.

Tue.

11 Apr 2017

,

noon

Wed.

12 Apr 2017

,

9:30 a.m.

Thu.

13 Apr 2017

,

noon

Fri.

14 Apr 2017

,

9:30 a.m.

Sat.

15 Apr 2017

,

noon

Sun.

16 Apr 2017

,

9:30 a.m.

Tue.

18 Apr 2017

,

noon

Thu.

20 Apr 2017

,

noon

Sat.

22 Apr 2017

,

noon

Tue.

25 Apr 2017

,

noon

Thu.

27 Apr 2017

,

noon

Sat.

29 Apr 2017

,

noon

May 2017

Tue.

02 May 2017

,

noon

Thu.

04 May 2017

,

noon

Sat.

06 May 2017

,

noon

Tue.

09 May 2017

,

noon

Thu.

11 May 2017

,

noon

Sat.

13 May 2017

,

noon

Tue.

16 May 2017

,

noon

Thu.

18 May 2017

,

noon

Sat.

20 May 2017

,

noon

Tue.

23 May 2017

,

noon

Thu.

25 May 2017

,

noon

Sat.

27 May 2017

,

noon

Tue.

30 May 2017

,

noon

June 2017

Thu.

01 Jun 2017

,

noon

Fri.

02 Jun 2017

,

9:30 a.m.

Sat.

03 Jun 2017

,

noon

Sun.

04 Jun 2017

,

9:30 a.m.

Tue.

06 Jun 2017

,

noon

Wed.

07 Jun 2017

,

9:30 a.m.

Thu.

08 Jun 2017

,

noon

Fri.

09 Jun 2017

,

9:30 a.m.

Sat.

10 Jun 2017

,

noon

Sun.

11 Jun 2017

,

9:30 a.m.

Tue.

13 Jun 2017

,

noon

Wed.

14 Jun 2017

,

9:30 a.m.

Thu.

15 Jun 2017

,

noon

Fri.

16 Jun 2017

,

9:30 a.m.

Sat.

17 Jun 2017

,

noon

Sun.

18 Jun 2017

,

9:30 a.m.

Tue.

20 Jun 2017

,

noon

Wed.

21 Jun 2017

,

9:30 a.m.

Thu.

22 Jun 2017

,

noon

Fri.

23 Jun 2017

,

9:30 a.m.

Sat.

24 Jun 2017

,

noon

Sun.

25 Jun 2017

,

9:30 a.m.

Tue.

27 Jun 2017

,

noon

Wed.

28 Jun 2017

,

9:30 a.m.

Thu.

29 Jun 2017

,

noon

Fri.

30 Jun 2017

,

9:30 a.m.

July 2017

Sat.

01 Jul 2017

,

noon

Sun.

02 Jul 2017

,

9:30 a.m.

Tue.

04 Jul 2017

,

noon

Wed.

05 Jul 2017

,

9:30 a.m.

Thu.

06 Jul 2017

,

noon

Fri.

07 Jul 2017

,

9:30 a.m.

Sat.

08 Jul 2017

,

noon

Sun.

09 Jul 2017

,

9:30 a.m.

Tue.

11 Jul 2017

,

noon

Wed.

12 Jul 2017

,

9:30 a.m.

Thu.

13 Jul 2017

,

noon

Fri.

14 Jul 2017

,

9:30 a.m.

Sat.

15 Jul 2017

,

noon

Sun.

16 Jul 2017

,

9:30 a.m.

Tue.

18 Jul 2017

,

noon

Wed.

19 Jul 2017

,

9:30 a.m.

Thu.

20 Jul 2017

,

noon

Fri.

21 Jul 2017

,

9:30 a.m.

Sat.

22 Jul 2017

,

noon

Sun.

23 Jul 2017

,

9:30 a.m.

Tue.

25 Jul 2017

,

noon

Wed.

26 Jul 2017

,

9:30 a.m.

Thu.

27 Jul 2017

,

noon

Fri.

28 Jul 2017

,

9:30 a.m.

Sat.

29 Jul 2017

,

noon

Sun.

30 Jul 2017

,

9:30 a.m.

August 2017

Tue.

01 Aug 2017

,

noon

Wed.

02 Aug 2017

,

9:30 a.m.

Thu.

03 Aug 2017

,

noon

Fri.

04 Aug 2017

,

9:30 a.m.

Sat.

05 Aug 2017

,

noon

Sun.

06 Aug 2017

,

9:30 a.m.

Tue.

08 Aug 2017

,

noon

Wed.

09 Aug 2017

,

9:30 a.m.

Thu.

10 Aug 2017

,

noon

Fri.

11 Aug 2017

,

9:30 a.m.

Sat.

12 Aug 2017

,

noon

Sun.

13 Aug 2017

,

9:30 a.m.

Tue.

15 Aug 2017

,

noon

Wed.

16 Aug 2017

,

9:30 a.m.

Thu.

17 Aug 2017

,

noon

Fri.

18 Aug 2017

,

9:30 a.m.

Sat.

19 Aug 2017

,

noon

Sun.

20 Aug 2017

,

9:30 a.m.

Tue.

22 Aug 2017

,

noon

Wed.

23 Aug 2017

,

9:30 a.m.

Thu.

24 Aug 2017

,

noon

Fri.

25 Aug 2017

,

9:30 a.m.

Sat.

26 Aug 2017

,

noon

Sun.

27 Aug 2017

,

9:30 a.m.

Tue.

29 Aug 2017

,

noon

Wed.

30 Aug 2017

,

9:30 a.m.

Thu.

31 Aug 2017

,

noon

September 2017

Fri.

01 Sep 2017

,

9:30 a.m.

Sat.

02 Sep 2017

,

noon

Sun.

03 Sep 2017

,

9:30 a.m.

Tue.

05 Sep 2017

,

noon

Wed.

06 Sep 2017

,

9:30 a.m.

Thu.

07 Sep 2017

,

noon

Fri.

08 Sep 2017

,

9:30 a.m.

Sat.

09 Sep 2017

,

noon

Sun.

10 Sep 2017

,

9:30 a.m.

Tue.

12 Sep 2017

,

noon

Wed.

13 Sep 2017

,

9:30 a.m.

Thu.

14 Sep 2017

,

noon

Fri.

15 Sep 2017

,

9:30 a.m.

Sat.

16 Sep 2017

,

noon

Sun.

17 Sep 2017

,

9:30 a.m.

Tue.

19 Sep 2017

,

noon

Wed.

20 Sep 2017

,

9:30 a.m.

Thu.

21 Sep 2017

,

noon

Fri.

22 Sep 2017

,

9:30 a.m.

Sat.

23 Sep 2017

,

noon

Sun.

24 Sep 2017

,

9:30 a.m.

Tue.

26 Sep 2017

,

noon

Wed.

27 Sep 2017

,

9:30 a.m.

Thu.

28 Sep 2017

,

noon

Fri.

29 Sep 2017

,

9:30 a.m.

Sat.

30 Sep 2017

,

noon