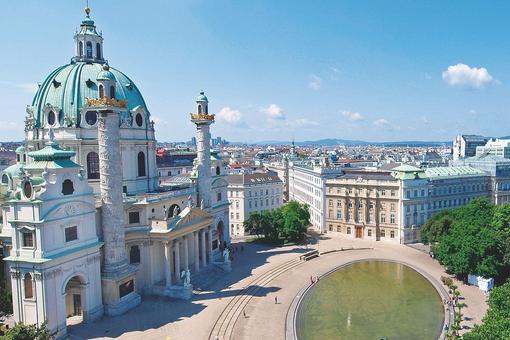 Ave Maria in der Karlskirche
International soprano soloists and "Ensemble 1756" perform at the baroque St. Charles Church. Ensemble 1756 is well known for its historically informed performance. St. Charles Church is the most important baroque cathedral North of the Alps. Listen to the famous Ave Marias Franz Schubert, Bach/Gounod as well to a "Salve regina" composed by the Austrian emperor Joseph I. A special concert evening – inspiring and virtuos!
BACH/GOUNOD: Ave Maria
MOZART: Ave verum
VIVALDI: Aria aus dem "Gloria" RV 589
SCHUBERT: Ave Maria
MOZART: Laudate dominum
KAISER JOSEPH I: Regina coeli
PACHELBEL: "Canon a tre"
Ausführende
Ensemble 1756 (auf Originalinstrumenten der Mozartzeit)
International tätige Wiener Gesangssolisten:
Nicholas Spanos, Altus • Marelize Gerber, Sopran • Natalia Kawalek, Sopran • Katrin Targo, Sopran
Venue
Karlsplatz
1040
Wien
Current Dates
Thu.

27 Oct 2016

,

8:15 p.m.