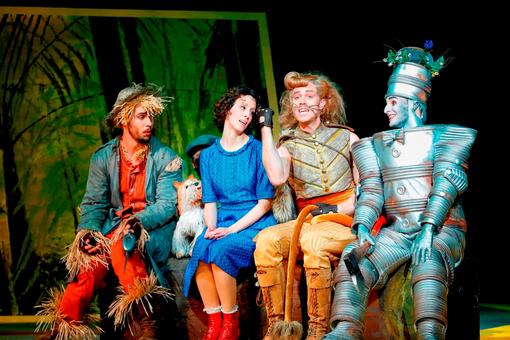 Der Zauberer von Oz
Kid's & Family Tip
Dkirection: Henry Mason
Stage Design and Costumes: Jan Meier
Light Design: Mario Ilsanker
Choreographye: Francesc Abós
As of 6 Jears
"The Wonderful Wizard of Oz" by Lyman Frank Baum is America's most famous fairy tale which attained worldwide cult status through the screen adaptation starring Judy Garland (1939). Its best-known song "Over the Rainbow" by Harold Arlen and Yip Harburg was awarded an Oscar in 1940. The stage version of this masterpiece, as originally developed in 1987 for the Royal Shakespeare Company, will be making its first appearance at the Volksoper.
Advance sales start from the 1st workday of each month for performances both for the current month and also the following month (for October performances from September 1st, tickets for September may be purchased from June 1st).
Telephone ticket sales for holders of credit cards: +43 1 513 1 513
Box Offices:1., Operngasse 2 & Volksoper (9., Währinger Strasse 78) & Burgtheater (1., Universitätsring 2): Mon-Fri 8 a.m.-6 p.m., Sat, Sun & holiday 9 a.m.-noon
Internet ticket sales - see web-addresses below.
Venue
Währinger Straße 78
1090
Wien
Current Dates
Sun.

29 Apr 2018

,

6 p.m.

Wed.

02 May 2018

,

6:30 p.m.

Sun.

06 May 2018

,

6 p.m.

Mon.

14 May 2018

,

6:30 p.m.

Sat.

19 May 2018

,

6:30 p.m.

Thu.

31 May 2018

,

4 p.m.

Thu.

07 Jun 2018

,

6:30 p.m.

Fri.

08 Jun 2018