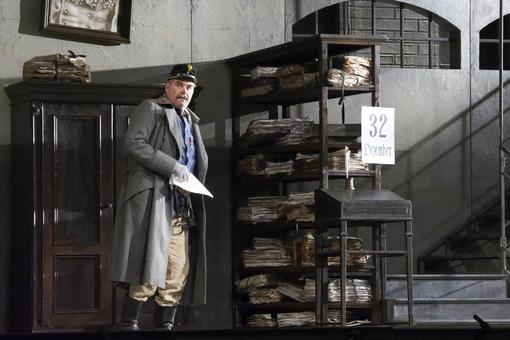 Die Zauberflöte
Direction: Moshe Leiser und Patrice Caurier
Stage design: Christian Fenouillat
Costumes: Agostino Cavalca
Light design: Christophe Forey
Wolfgang Amadeus Mozart's celebrated opera is open to a number of different interpretations. It can be seen as a fabulous magic play, or as a mystical work of symbolism, as a perpetual confrontation between Good and Evil, or as a humanistic message. First performed in 1791 at the Freihaustheater auf der Wieden in Vienna, the work is one of the
most frequently played operas in the international repertoire, continually fascinating audiences anew due to its dualism of apparent simplicity and depth of musical expression. The Magic Flute has been performed at the Wiener Staatsoper more than a thousand times since its opening in 1869, and can therefore look back on a rich artistic tradition.
Tickets can be ordered immediatly on the Internet: www.wiener-staatsoper.at
Advance ticket sales start two month before the performance date (e.g. on 1st September for 1st November, on 30th September for 30th November. Tickets for performances between 1st and 30th September will be sold from 1st to 30th May and for 1st to 31st October from 1st to 30th June)
- via Internet: www.staatsoper.at, www.culturall.com
- for credit card holders: Tel: +43 1 513 1 513, Mon. to Sun. 10 a.m. to 9 p.m.
- box office sales: Bundestheater ticket office (1., Operngasse 2), Burgtheater (1., Universitätsring 2), Volksoper (9., Währinger Strasse 78): Mon. to Fri. 8 a.m. to 6 p.m., Sat., Sun. and holidays: 9 a.m. to 12 noon
Standing room tickets are sold starting 80 minutes before curtain time at the standing room box office (entrance Operngasse) only.
Venue
Opernring 2
1010
Wien
Current Dates
Fri.

23 Dec 2016

,

7 p.m.

Sun.

25 Dec 2016

,

6 p.m.

Wed.

28 Dec 2016

,

7 p.m.