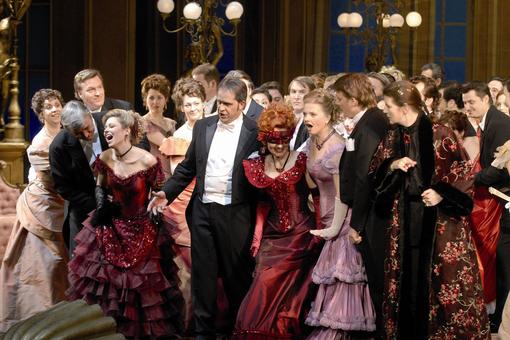 Die Fledermaus
Direction: Heinz Zednik
This quintessential Viennese operetta deserves to be enjoyed throughout the year, and not just on New Year's Eve. Eisenstein evades a summons to serve a brief prison sentence by accepting Falke's invitation to Prince Orlowsky's party. His wife's former beau Alfred is escorted to jail in his place, having been mistakenly identified as Eisenstein. At the party everyone plays an assumed part, and later must share in the quilt of deception. A drunken prison guard, a stolen watch ... somehow everything is worked out in the end and the operetta's motto "Glücklich ist, wer vergisst, was doch nicht zu ändern ist" ("happy are they who forget what can't be changed") rings true.
Advance sales start from the 1st workday of each month for performances both for the current month and also the following month (for October performances from September 1st, tickets for September may be purchased from June 1st).
Telephone ticket sales for holders of credit cards: +43 1 513 1 513
Box Offices:1., Operngasse 2 & Volksoper (9., Währinger Strasse 78) & Burgtheater (1., Universitätsring 2): Mon-Fri 8 a.m.-6 p.m., Sat, Sun & holiday 9 a.m.-noon
Internet ticket sales - see web-addresses below.
Venue
Währinger Straße 78
1090
Wien
Current Dates
Mon.

05 Mar 2018

,

7 p.m.

Fri.

09 Mar 2018

,

7 p.m.

Tue.

22 May 2018

Fri.

25 May 2018

Wed.

30 May 2018

Fri.

29 Jun 2018