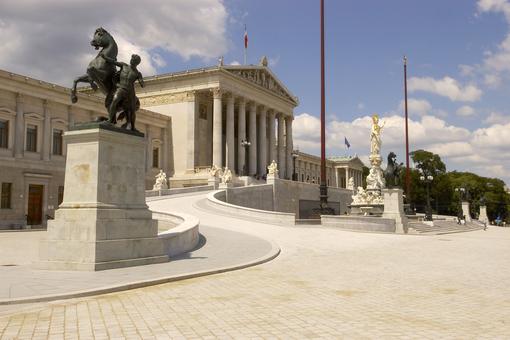 Guided Tours of the Austrian Parliament
The Parliament Building in Vienna is not only the place where Austria's federal laws are debated and enacted but also an outstanding example of the opulent "Ringstrasse architecture" of the 19th century. With this monumental structure inspired by the temples of classical Greece, Theophil Hansen created an architectural parable of democracy and the tasks of the representatives of the people.
We thus cordially invite you to have a closer look at this artistic embodiment of the idea of parliamentary democracy and to learn more about its underlying symbolism in the course of a guided tour. Moreover, you will have an opportunity to see for yourself how and where Austria's national laws are adopted, who is involved in their development and what else is happening in the Austrian Parliament.
You will go and see the Columned Hall, the session halls of the Austrian National and Federal Council as well as the Chamber of the former House of Deputies.

As of 6. 9. (D, E) von Mo–Sa at 11 a.m., 2, 3 & 4 p.m., Fri also at 1 p.m., Sat also at 12 and 1 p.m. (exept 6., 17., 26., 27.4., 1., 5., 11., 16., 17., 25.5.)
Venue
Dr.-Karl-Renner-Ring 3
1010
Wien
Current Dates
Mon.

29 May 2017

Tue.

30 May 2017

Wed.

31 May 2017

Thu.

01 Jun 2017

Fri.

02 Jun 2017

Sat.

03 Jun 2017

Mon.

05 Jun 2017

Tue.

06 Jun 2017

Wed.

07 Jun 2017

Thu.

08 Jun 2017
All dates
All Dates
June

Fri.

09 Jun 2017

Sat.

10 Jun 2017

Mon.

12 Jun 2017

Tue.

13 Jun 2017

Wed.

14 Jun 2017

Thu.

15 Jun 2017

Fri.

16 Jun 2017

Sat.

17 Jun 2017

Mon.

19 Jun 2017

Tue.

20 Jun 2017

Wed.

21 Jun 2017

Thu.

22 Jun 2017

Fri.

23 Jun 2017

Sat.

24 Jun 2017

Mon.

26 Jun 2017

Tue.

27 Jun 2017

Wed.

28 Jun 2017

Thu.

29 Jun 2017

Fri.

30 Jun 2017

July

Sat.

01 Jul 2017

Mon.

03 Jul 2017

Tue.

04 Jul 2017