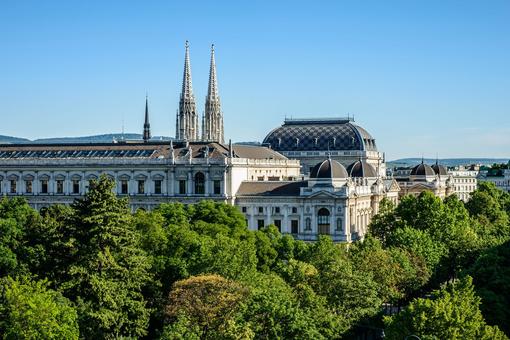 Guided tour - University Vienna
The University of Vienna offers guided tours through the main building. In 1884, Emperor Franz Joseph I inaugurated the new main building of the University of Vienna on the Ringstrasse, which had been erected by the architect Heinrich von Ferstel. The guided tours, which are available both in German and English, provide an insight into the interiors of the
oldest university in the German‐speaking cultural area. Highlights of the tour are the Arcade Court in the shape of a "campo santo", the Main Ceremonial Chamber (whenever available) with its renowned ceiling, decorated with copies of the mural paintings by Gustav Klimt and the Great Reading Room of the University Library.
Every Saturday, 11:30 am (in English)
Sat 10.30 a.m. & Thur 6 p.m. (in German)
except for majoy holidays
No reservation or registration necessary.
Duration: Approx. 60 minutes
Charge:
Adults: 5 €; Children (< 6 years): free
Discounts for students, pupils, conscripts, seniors: 3.50 €
Tickets are available at the concierge desk (main entrance).
Meeting point:
Main entrance of the University of Vienna,
Concierge desk, 1010 Vienna, Universitätsring 1
Venue
Universitätsring 1
1010
Wien
Map
Current Dates
Sat.

25 Jan 2020

Thu.

30 Jan 2020

Sat.

01 Feb 2020

Thu.

06 Feb 2020

Sat.

08 Feb 2020

Thu.

13 Feb 2020

Sat.

15 Feb 2020

Thu.

20 Feb 2020

Sat.

22 Feb 2020

Thu.

27 Feb 2020
All dates
All Dates
February March

Thu.

05 Mar 2020

Sat.

07 Mar 2020

Thu.

12 Mar 2020

Sat.

14 Mar 2020

Thu.

19 Mar 2020

Sat.

21 Mar 2020

Thu.

26 Mar 2020

Sat.

28 Mar 2020