Hänsel & Gretel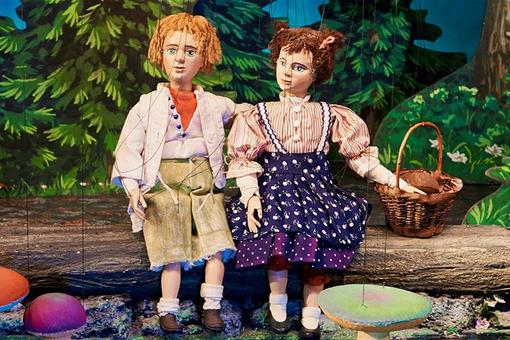 Family
Opera in a shortened version by Engelbert Humperdinck

Spoken language: German

The composer Engelbert Humperdinck - as a marionette – leads through his opera in a child-friendly way

This opera is about Hansel and Gretel, the children of a poor broom-maker-family. One day, their mother sends them into the forest in order to collect mushrooms. But they forget about the time and suddenly it's too dark to find their way home. So they have to sleep in the woods for the night. When they awake on the next morning, they discover an gingerbread house, where the witch lives, who turns the children into gingerbread loaves. Hansel and Gretel are caught and kept as prisoners by the witch; they are also to be turned into gingerbread. However, Hansel and Gretel are smart: With the help of a trick they cast the witch into her own oven. But the story does not end here: as their worried parents arrive at the gingerbread house, they find not only their own children, but also all the other children who were rescued by Hansel and Gretel.


Venue
Schloss Schönbrunn, Hofratstrakt
1130
Wien
Current Dates
Sat.

02 Dec 2023

,

4 p.m.

Sat.

09 Dec 2023

,

4 p.m.

Sat.

16 Dec 2023

,

4 p.m.

Sat.

23 Dec 2023

,

4 p.m.