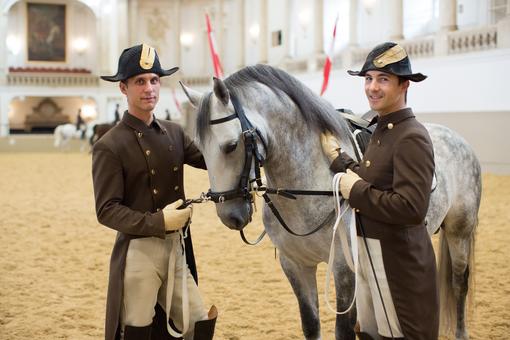 The Lipizzans' Morning Exercise
The morning exercise offers an insight into the years of training of the Lipizzaners and their riders. Accompanied by classical Viennese music the riders and their horses do simple relaxing exercises and exercises aimed at refining and perfecting a certain movement. Through the specific strengthening and building up of the muscles, the horses' natural movements are developed into the perfect figures of the High School of classical Horsemanship.
As we do not want to put too much strain on the horses, the classical School Jumps, which are shown during the performances, are not practised on a daily basis.
Tickets cannot be booked in advance for the Morning Exercise. Tickets are available at the Visitor Centre at Michaelerplatz (during the high season also at the Box Office at Josefsplatz).

Venue
Michaelerplatz 1 (Besucherzentrum/Visitor Center)
1010
Wien
Map
Current Dates
Tue.

12 Nov 2019

,

10 a.m.

-

noon

Wed.

13 Nov 2019

,

10 a.m.

-

noon

Thu.

14 Nov 2019

,

10 a.m.

-

noon

Fri.

15 Nov 2019

,

10 a.m.

-

noon

Tue.

19 Nov 2019

,

10 a.m.

-

noon

Wed.

20 Nov 2019

,

10 a.m.

-

noon

Thu.

21 Nov 2019

,

10 a.m.

-

noon

Fri.

22 Nov 2019

,

10 a.m.

-

noon

Tue.

26 Nov 2019

,

10 a.m.

-

noon

Wed.

27 Nov 2019

,

10 a.m.

-

noon
All dates
All Dates
November

Thu.

28 Nov 2019

,

10 a.m.

-

noon

December

Tue.

03 Dec 2019

,

10 a.m.

-

noon

Wed.

04 Dec 2019

,

10 a.m.

-

noon

Thu.

05 Dec 2019

,

10 a.m.

-

noon

Fri.

06 Dec 2019

,

10 a.m.

-

noon

Tue.

10 Dec 2019

,

10 a.m.

-

noon

Wed.

11 Dec 2019

,

10 a.m.

-

noon

Thu.

12 Dec 2019

,

10 a.m.

-

noon

Tue.

17 Dec 2019

,

10 a.m.

-

noon

Wed.

18 Dec 2019

,

10 a.m.

-

noon

Thu.

19 Dec 2019

,

10 a.m.

-

noon

Fri.

20 Dec 2019

,

10 a.m.

-

noon

Mon.

23 Dec 2019

,

10 a.m.

-

noon

Tue.

24 Dec 2019

,

10 a.m.

-

noon

Thu.

26 Dec 2019

,

10 a.m.

-

noon

Fri.

27 Dec 2019

,

10 a.m.

-

noon

Sun.

29 Dec 2019

,

10 a.m.

-

noon

Mon.

30 Dec 2019

,

10 a.m.

-

noon