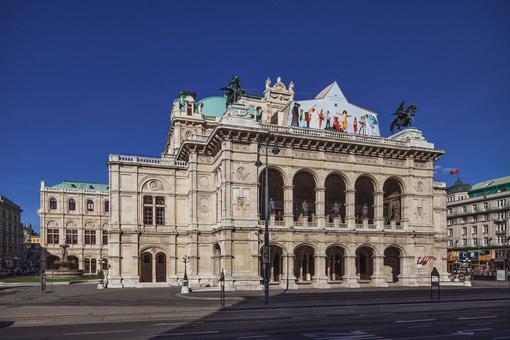 Capriccio
Produktion: Marco Arturo Marelli
Stage design: Marco Arturo Marelli
Costumes: Dagmar Niefind
Choreography: Lukas Gaudernak
This is an opera about opera as an art form. Richard Strauss's late work follows the creation of a piece for music theatre, focusing on the world of the theatre with astute merriment and full understanding of this genre. The key question: text or music – which takes precedence? Capriccio is in equal measure a stock character play, a tender declaration of love, a clever altercation and a fine chamber drama. Director and scene designer Marco Arturo Marelli has staged this tongue-in-cheek legacy piece with
great poetic power and designed shimmeringly beautiful images.


Tickets can be ordered immediatly on the Internet: www.wiener-staatsoper.at
Remaining non-assogned tickets can normally be purchased two month before the performance date (e.g. on 1st September for 1st November, on 30th September for 30th November. Tickets for performances between 1st and 30th September will be sold from 1st to 30th May and for 1st to 31st October from 1st to 30th June)
- via Internet: www.staatsoper.at, www.culturall.com
- for credit card holders: Tel: +43 1 513 1 513, Mon. to Sun. 10 a.m. to 7 p.m.
- box office sales: Bundestheater ticket office (1., Operngasse 2), Burgtheater (1., Universitätsring 2), Volksoper (9., Währinger Strasse 78): Mon. to Fri. 8 a.m. to 6 p.m., Sat., Sun. and holidays: 9 a.m. to 12 noon
Standing room tickets are sold starting 80 minutes before curtain time at the standing room box office (entrance Operngasse) only.
Venue
Opernring 2
1010
Wien
Current Dates
Thu.

17 May 2018

Sun.

20 May 2018

Thu.

24 May 2018

Sun.

27 May 2018