الملك Hamed and الأميرة Sherifa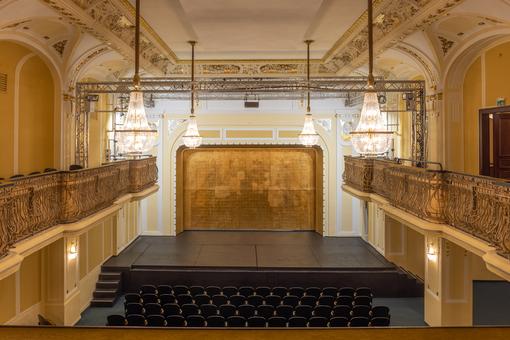 Family
Children's opera for three soloists and instrumental ensemble
Libretto by Ina Karr and Anselm Dalferth
In German language

Austrian premiere: April 8, 2024

Ensemble TaWumm!
Conductor: Viktor Mitrevski
Director: Florian Drexler

King Hamed is furious: because he is disappointed with his wife, he banishes all women from his kingdom – except his mother. But Princess Sherifa refuses to stand for such nonsense. Disguised as Prince Sherif, she travels to Hamed's kingdom and makes friends with him. Hamed likes his new friend very much, and is increasingly confused by what he feels: Is Sherif really a man? And how do you actually tell what is typically male and what is female?
The Lebanese composer and sculptor Zad Moultaka asks the audience the question of masculinity and femininity through his music, too, because all the roles in the children's opera, which premiered in 2015, are sung by three men. Moultaka's score, written for an ensemble of oboe, bassoon, double bass and two percussionists, is a fascinating and humorous blend of European musical theatre tradition with its "Western" music and traditional Lebanese music.
Family opera for young & all from 8 years


Venue
Fleischmarkt 24
1010
Wien
Current Dates
Mon.

08 Apr 2024

,

6 p.m.

Wed.

10 Apr 2024

,

10:30 a.m.

Thu.

11 Apr 2024

,

10:30 a.m.

Sat.

13 Apr 2024

,

4 p.m.