Schneebergbahn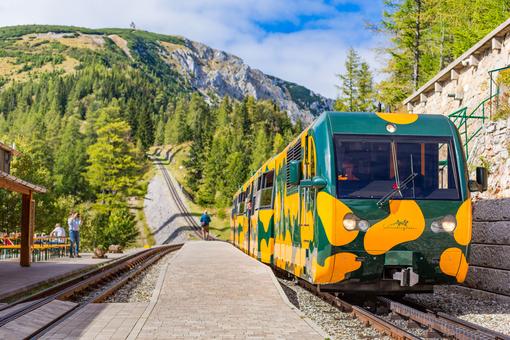 The Schneebergbahn has been an easy and relaxed way to ascend Lower Austria's highest mountain since 1897. Enjoy the breathtaking panorama of the Alps in the Schneeberg hiking paradise, just 80 kilometers to the south of Vienna.

The Schneebergbahn, one of three cog railways still in existence in Austria and the country's longest at 9.7 kilometers, brings nature-lovers up the Schneeberg between May and December. At 2,076 meters, the mountain is not only the highest peak in Lower Austria, but also the easternmost and northernmost of the two-thousand meter summits of the Alps.

To climb the Schneeberg guests can choose between the 125 year-old nostalgic steam train (90-minute ride) and the Salamander locomotive that has been in use since 1999 (40 minutes).
The journey begins at the train station in Puchberg, which is really easy to get to thanks to the many ÖBB connections. During the ride, you can enjoy the breathtaking landscape, which changes a little with each vertical meter. The train covers 1,200 vertical meters and arrives at Austria's highest train station at 1,795 meters above sea level.

Hochschneeberg station in the mountains is the ideal departure point for ahike, which leads on its own or as part of a guided hiking tour along routes with different degrees of difficulty. With more than 80 kilometers of hiking trails and alpine climbing, Puchberg is one of the most beautiful hiking areas in Lower Austria. The panorama of the Alps is breathtaking, with long-distance views as far as Neusiedlersee Lake.
Timetable Nostalgia Steam Train
4.6. | 18.6. | 2.7. | 16.7. | 30.7. | 13.8. | 27.8. | 10.9. | 24.9.


Events 2023:

17.6.2023
Schneeberg Run & Schneeberg Trail

7.7.-25.8.2023, every Friday
Alpine Sunrise

20.10.-19.11.2023
Golden Autumn

2.-10.12.2023
Christmas Cruise
Venue
Schneebergbahn
Schneebergbahn
Bahnhofsplatz 1
2734
Puchberg
Current Dates
Fri.

09 Jun 2023

Sat.

10 Jun 2023

Sun.

11 Jun 2023

Mon.

12 Jun 2023

Tue.

13 Jun 2023

Wed.

14 Jun 2023

Thu.

15 Jun 2023

Fri.

16 Jun 2023

Sat.

17 Jun 2023

Sun.

18 Jun 2023
All dates
All Dates
June

Fri.

09 Jun 2023

Sat.

10 Jun 2023

Sun.

11 Jun 2023

Mon.

12 Jun 2023

Tue.

13 Jun 2023

Wed.

14 Jun 2023

Thu.

15 Jun 2023

Fri.

16 Jun 2023

Sat.

17 Jun 2023

Sun.

18 Jun 2023

Mon.

19 Jun 2023

Tue.

20 Jun 2023

Wed.

21 Jun 2023

Thu.

22 Jun 2023

Fri.

23 Jun 2023

Sat.

24 Jun 2023

Sun.

25 Jun 2023

Mon.

26 Jun 2023

Tue.

27 Jun 2023

Wed.

28 Jun 2023

Thu.

29 Jun 2023

Fri.

30 Jun 2023

July

Sat.

01 Jul 2023

Sun.

02 Jul 2023

Mon.

03 Jul 2023

Tue.

04 Jul 2023

Wed.

05 Jul 2023

Thu.

06 Jul 2023

Fri.

07 Jul 2023

Sat.

08 Jul 2023

Sun.

09 Jul 2023

Mon.

10 Jul 2023

Tue.

11 Jul 2023

Wed.

12 Jul 2023

Thu.

13 Jul 2023

Fri.

14 Jul 2023

Sat.

15 Jul 2023

Sun.

16 Jul 2023

Mon.

17 Jul 2023

Tue.

18 Jul 2023

Wed.

19 Jul 2023

Thu.

20 Jul 2023

Fri.

21 Jul 2023

Sat.

22 Jul 2023

Sun.

23 Jul 2023

Mon.

24 Jul 2023

Tue.

25 Jul 2023

Wed.

26 Jul 2023

Thu.

27 Jul 2023

Fri.

28 Jul 2023

Sat.

29 Jul 2023

Sun.

30 Jul 2023

Mon.

31 Jul 2023

August

Tue.

01 Aug 2023

Wed.

02 Aug 2023

Thu.

03 Aug 2023

Fri.

04 Aug 2023

Sat.

05 Aug 2023

Sun.

06 Aug 2023

Mon.

07 Aug 2023

Tue.

08 Aug 2023

Wed.

09 Aug 2023

Thu.

10 Aug 2023

Fri.

11 Aug 2023

Sat.

12 Aug 2023

Sun.

13 Aug 2023

Mon.

14 Aug 2023

Tue.

15 Aug 2023

Wed.

16 Aug 2023

Thu.

17 Aug 2023

Fri.

18 Aug 2023

Sat.

19 Aug 2023

Sun.

20 Aug 2023

Mon.

21 Aug 2023

Tue.

22 Aug 2023

Wed.

23 Aug 2023

Thu.

24 Aug 2023

Fri.

25 Aug 2023

Sat.

26 Aug 2023

Sun.

27 Aug 2023

Mon.

28 Aug 2023

Tue.

29 Aug 2023

Wed.

30 Aug 2023

Thu.

31 Aug 2023

September

Fri.

01 Sep 2023

Sat.

02 Sep 2023

Sun.

03 Sep 2023

Mon.

04 Sep 2023

Tue.

05 Sep 2023

Wed.

06 Sep 2023

Thu.

07 Sep 2023

Fri.

08 Sep 2023

Sat.

09 Sep 2023

Sun.

10 Sep 2023

Mon.

11 Sep 2023

Tue.

12 Sep 2023

Wed.

13 Sep 2023

Thu.

14 Sep 2023

Fri.

15 Sep 2023

Sat.

16 Sep 2023

Sun.

17 Sep 2023

Mon.

18 Sep 2023

Tue.

19 Sep 2023

Wed.

20 Sep 2023

Thu.

21 Sep 2023

Fri.

22 Sep 2023

Sat.

23 Sep 2023

Sun.

24 Sep 2023

Mon.

25 Sep 2023

Tue.

26 Sep 2023

Wed.

27 Sep 2023

Thu.

28 Sep 2023

Fri.

29 Sep 2023

Sat.

30 Sep 2023

October

Sun.

01 Oct 2023

Mon.

02 Oct 2023

Tue.

03 Oct 2023

Wed.

04 Oct 2023

Thu.

05 Oct 2023

Fri.

06 Oct 2023

Sat.

07 Oct 2023

Sun.

08 Oct 2023

Mon.

09 Oct 2023

Tue.

10 Oct 2023

Wed.

11 Oct 2023

Thu.

12 Oct 2023

Fri.

13 Oct 2023

Sat.

14 Oct 2023

Sun.

15 Oct 2023

Mon.

16 Oct 2023

Tue.

17 Oct 2023

Wed.

18 Oct 2023

Thu.

19 Oct 2023

Fri.

20 Oct 2023

Sat.

21 Oct 2023

Sun.

22 Oct 2023

Mon.

23 Oct 2023

Tue.

24 Oct 2023

Wed.

25 Oct 2023

Thu.

26 Oct 2023

Fri.

27 Oct 2023

Sat.

28 Oct 2023

Sun.

29 Oct 2023

Mon.

30 Oct 2023

Tue.

31 Oct 2023

November

Wed.

01 Nov 2023

Thu.

02 Nov 2023

Fri.

03 Nov 2023

Sat.

04 Nov 2023

Sun.

05 Nov 2023

Mon.

06 Nov 2023

Tue.

07 Nov 2023

Wed.

08 Nov 2023

Thu.

09 Nov 2023

Fri.

10 Nov 2023

Sat.

11 Nov 2023

Sun.

12 Nov 2023

Mon.

13 Nov 2023

Tue.

14 Nov 2023

Wed.

15 Nov 2023

Thu.

16 Nov 2023

Fri.

17 Nov 2023

Sat.

18 Nov 2023

Sun.

19 Nov 2023

Fewer dates