quartetto plus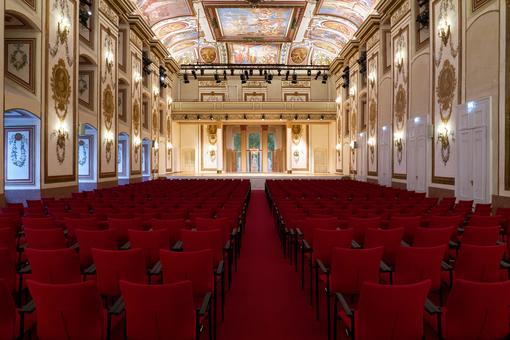 Joseph Haydn is considered the creator or "father" of the string quartet. With his total of 68 works for this genre, he laid the foundation for the works of subsequent generations.
Haydn wrote most of his quartets during his long service at the court of the Esterhazys. In the historic setting of the magnificent palace, which dates back to the Baroque period, the string quartet will be the focus of a new festival for a whole weekend.

30.3.2023
Emerson String Quartet
Samuel Barber: Adagio for Strings op. 11
Joseph Haydn: String quartet op. 33 No. 5 G major Hob. III:41
Franz Schubert: String Quartet in G major D 887
31.3.2023
Quartetto di Cremona
Joseph Haydn: String Quartet op. 77 No.1 G major Hob. III:81
Maurice Ravel: String quartet in F major op. 35
Ludwig van Beethoven: String Quartet op. 132 in A minor
1.4.2023
Leonkoro Quartet, Adelphi Quartett and Isidore String Quartet
Joseph Haydn: The Seven Last Words of Our Savior on the Cross, Hob. XX/1:B
Works by Kaija Saariaho, Bushra El-Turk, Daniel Serrano and Aida Shirazi

[Ad]


Venue
Schloss Esterházy
Esterházyplatz
7000
Eisenstadt
Current Dates
Thu.

30 Mar 2023

,

7:30 p.m.

Fri.

31 Mar 2023

,

7:30 p.m.

Sat.

01 Apr 2023

,

7:30 p.m.