Compostion with twelve tones. Schönberg's reorganization of music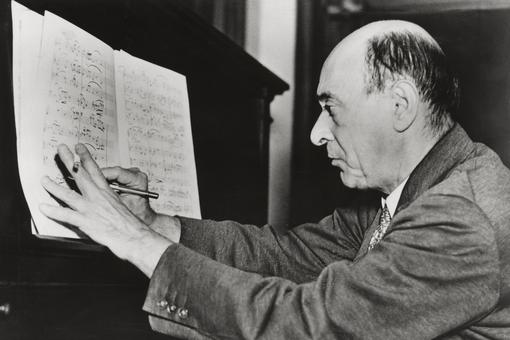 When he formulated his twelve-tone method around 1923, Arnold Schönberg was convinced that he had created a link between a contemporary musical language and a centuries-old musical tradition. At a time when music became open to sounds outside of traditional tonal harmony, the twelve-tone method provided a secure foundation upon which his compositional thinking could develop freely. Whether following in the tracks of the musical Baroque or the Viennese Classicists, whether applied to string quartet or virtuoso concerto, strict canon or popular dance, the method proved to be a universal "compositional tool".
Deeply beholden to musical tradition, Schönberg took up the search for compositional logic amidst a "freedom and diversity of expression".
The exhibition accompanies the composer on a journey of discovery of "the laws of nature and the laws of our thinking". Music manuscripts that cover a period spanning from his early programmatic pieces to the psalms of his last works show how he explored uncharted musical paths. Photographs, paintings, texts, and historical documents guide us through his artistic development through to his American exile. The exhibition also provides a vivid rendering of musical procedures: informative animations make the twelve-tone method comprehensible in sound and image.
Venue
Zaunergasse 1-3
1030
Wien
Current Dates
Thu.

13 Apr 2023

,

5:30 p.m.