Deutschmeister concerts in front of Schönbrunn Palace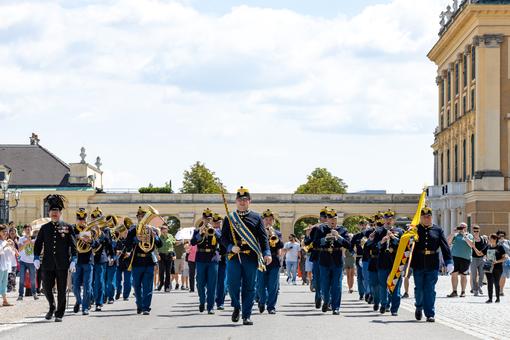 November 14, 2022 marks the 100th anniversary of the death of Carl Michael Ziehrer, the famous composer and former Kapellmeister of the Deutschmeisterkapelle from 1885-1893.

The Deutschmeisters therefore want to honor the work of this great Viennese master accordingly and in a fitting atmosphere: Ziehrer concerts in front of Schönbrunn Palace!
At 11 a.m. the Original Hoch- und Deutschmeisterkapelle will march from the Wagenburg via the Hietzinger Tor into the cour d'honneur of Schönbrunn Palace to play a concert in full splendor of their costume on the occasion of the "100th anniversary of Ziehrer's death" in a historic circle formation.
Free admission!
Venue
Ehrenhof
Schönbrunner Schlossstraße
1130
Wien
Tickets & Info
Original Hoch- und Deutschmeister:
Current Dates
Sat.

13 Aug 2022

,

11 a.m.

Sat.

27 Aug 2022

,

11 a.m.