Ballet: Promethean Fire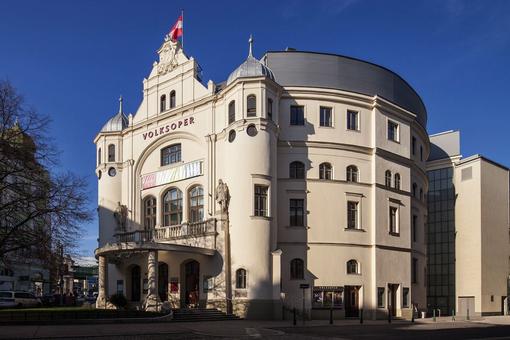 Ballets by Paul Taylor, Martin Schläpfer, Mark Morris

Premiere: February 11, 2023
With the premiere of Promethean Fire at the Volksoper, the Vienna State Ballet presents two outstanding artists of American modern dance for the first time: Paul Taylor and Mark Morris. Their ballets examine the outer contours of the Promethean motif – in between hubris and humanity, disaster and beauty, creation and transience.
Prometheus has formed a human being out of clay, given the humans fire and thereby created civilisation. For his rebellion against the father of the gods Zeus, he has had to pay with terrible suffering – chained to a rock where an eagle repeatedly feasts on his liver. Prometheus is a figure who symbolises liberation from ignorance and oppression: as "the forward thinker" he represents progress, but also control over nature and, not least, the grand delusions of humans who behave as if they were gods.
Paul Taylor's Promethean Fire ought to be viewed as a direct reaction to the attacks on "Nine Eleven". Even if the choreographer subsequently withdrew this specific allusion, a fundamental mood of disaster is present in the space: conflicts break out, emotions clash – but hope prevails in the end in this moving dance drama.
By contrast, with his wonderful sense of humour Mark Morris puts nine beaux on stage: men of beauty, real men, but also good mates, chivalrous gentlemen and innocent angels. At the same time, with its lightness of touch, Beaux is an example of ambitious, lucid "music-making with the body".
Ballet Director Martin Schläpfer responds to the two Americans' powerful language of modern dance with two miniatures: subtle movement studies that glow in delicate colours, dances that are like "the powder on butterflies' wings".

Promethean Fire
Choreography: Paul Taylor
Music: Johann SebastianBach in the orchestration by Leopold Stokowski

Lontano
Choreography: Martin Schläpfer
Music: György Ligeti

Ramifications
Choreography: Martin Schläpfer
Music: György Ligeti

Beaux
Choreography: Mark Morris
Music: Bohuslav Martinu

Musical direction: Jean-Michaël Lavoie
Venue
Währinger Straße 78
1090
Wien
Current Dates
Sat.

11 Feb 2023

,

7 p.m.

Fri.

17 Feb 2023

,

7 p.m.

Tue.

21 Feb 2023

,

7 p.m.

Sat.

25 Feb 2023

,

7 p.m.

Sun.

12 Mar 2023

,

6 p.m.

Mon.

20 Mar 2023

,

7 p.m.