Urban Cultures. Street Art at the Construction Site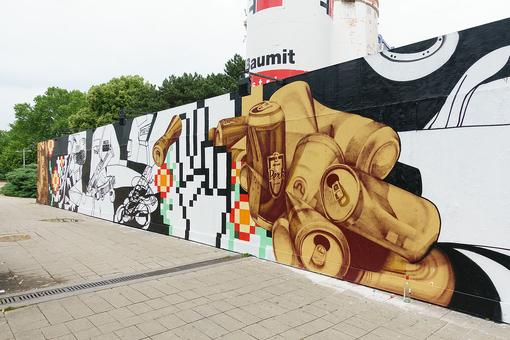 Under the heading Karlsplatz Open Air the construction fence at the Wien Museum will, once again, become a canvas for street art during the summer. With its multiple possible uses, today's Karlsplatz is the inspiration for the artists' often site-specific art.
Urban Cultures
If the focus of the Urban Natures construction fence exhibition in 2021 was on the interface between buildings and greenery, the theme in 2022 is public space and its users. "Public" is usually defined as a place where different people, cultures, and needs meet, not always smoothly. It's a place for encounter, discourse, participation. It's also the idea of accessibility to all under the same conditions.

But does this ideal correspond to reality? And just who is actually meant by "everyone"? Who is present and welcome in public space? Who helps to shape it? Whose needs and voices are brought into focus in a process that also displaces others in the desire for a more conflict-free ambience? These are questions that are closely linked to the original protest culture of graffiti and street art. After all, it is precisely these artists who claim spaces for themselves and question existing power and ownership structures concerning public participation and communication.
9.6. - 31.7.2022
Part I : David Leitner und Perk_up
11.8. - 2.10.2022
Part II: Feminist Killjoy
Venue
Karlsplatz
1040
Wien
Current Dates
Sat.

01 Oct 2022

,

midnight

-

midnight

Sun.

02 Oct 2022

,

midnight

-

midnight