A brenhassa Summa / Viktor Noworski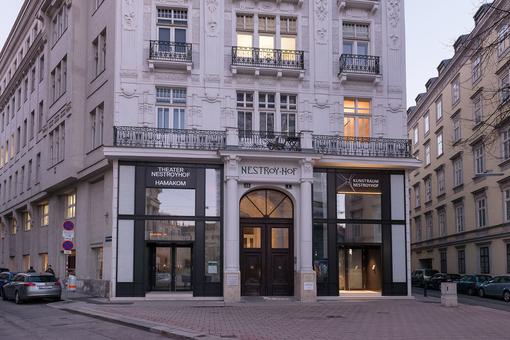 World premiere / In-house production
Premiere: December 8, 2022
Direction and theatrical adaptation: Ingrid Lang

Viktor Noworksi tells in A brenhassa Summa the story of the North American Launghår-Ethni Mawrab.

The author and protagonist of the stories grew up in this community in Pennsylvania. He was persecuted, expelled and attacked and seriously injured by neo-Nazis in his new home Austria, was then in a coma for a long time and has since lived anonymously, somewhere in Austria.

Noworski tells of everyday life and rituals in the peaceful community in Pennsylvania, with functioning old-age provision, a self-evident way of dealing with diverse genders and respectful coexistence with plants and animals - but also of European missionaries who wanted to impose their customs, religion, bureaucracy and their "raukadn Autos" on the members of the Mawrab, along with other toxic substances.
Of encounters with the Jewish theater and film people who had fled from Europe in New York, the great sympathy for each other, their songs and many a commonality. About pronounced pectoralis muscles and again and again about why cats are the "ållerbestn Hawara" and the totem animal of the Mawrab.

Viktor Noworski's language is undoubtedly unique. So is his story. A lost utopia, another possibility. He tells all this with a large portion of humor.


Venue
Nestroyplatz 1
1020
Wien
Current Dates
Thu.

08 Dec 2022

,

7:30 p.m.

Sat.

10 Dec 2022

,

7:30 p.m.

Sun.

11 Dec 2022

,

7:30 p.m.

Tue.

13 Dec 2022

,

7:30 p.m.

Wed.

14 Dec 2022

,

7:30 p.m.

Thu.

15 Dec 2022

,

7:30 p.m.

Tue.

20 Dec 2022

,

7:30 p.m.

Wed.

21 Dec 2022

,

7:30 p.m.