Brazil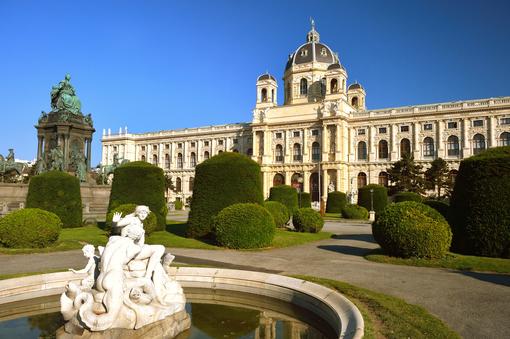 This exhibition focuses on the fascinating beauty of Brazil from the perspective of the centuries-old ties between Brazil and Austria with their global interactions.
The close ties between Austria and Brazil can be traced back to the period of the Habsburg Monarchy. The marriage of Archduchess Maria Leopoldina of Austria, the fourth daughter of Emperor Franz I, to the Portuguese heir to the throne, Dom Pedro, had not only political consequences but also a far-reaching impact on the world of science. This exhibition gives an insight into the large-scale expedition launched to celebrate the wedding and supervised by none other than Austrian Chancellor Klemens Wenzel von Metternich himself. Two research ships travelled for a total of four years. A staff of distinguished scientists collected and documented the exotic fauna and flora, as well as minerals and ethnological treasures, in hugely challenging conditions.
The majority of the exhibition is dedicated to Brazil's unique natural habitats – the evergreen rainforest of Amazonia, the thousands of kilometers of Atlantic coastline, the dense wilderness of the Atlantic Forest, the pale vegetation of the 'White Forest' in the Caatinga, the tropical swamps of the Pantanal, the highly specialized grasses of the Pampa and the forbidding landscape of the Cerrado. Preserving the enormous biodiversity and at least remnants of the original habitats with their abundance of plants and animals is a tremendous challenge. Scientists from Austria and the NHM Vienna are working in a variety of ways with partners from Brazil on research and renaturation projects.
Venue
Maria-Theresien-Platz
1010
Wien
Current Dates
Fri.

02 Jun 2023

,

9 a.m.

-

6 p.m.

Sat.

03 Jun 2023

,

9 a.m.

-

6 p.m.

Sun.

04 Jun 2023

,

9 a.m.

-

6 p.m.

Mon.

05 Jun 2023

,

9 a.m.

-

6 p.m.

Wed.

07 Jun 2023

,

9 a.m.

-

8 p.m.

Thu.

08 Jun 2023

,

9 a.m.

-

6 p.m.

Fri.

09 Jun 2023

,

9 a.m.

-

6 p.m.

Sat.

10 Jun 2023

,

9 a.m.

-

6 p.m.

Sun.

11 Jun 2023

,

9 a.m.

-

6 p.m.

Mon.

12 Jun 2023

,

9 a.m.

-

6 p.m.
All dates
All Dates
June

Fri.

02 Jun 2023

,

9 a.m.

-

6 p.m.

Sat.

03 Jun 2023

,

9 a.m.

-

6 p.m.

Sun.

04 Jun 2023

,

9 a.m.

-

6 p.m.

Mon.

05 Jun 2023

,

9 a.m.

-

6 p.m.

Wed.

07 Jun 2023

,

9 a.m.

-

8 p.m.

Thu.

08 Jun 2023

,

9 a.m.

-

6 p.m.

Fri.

09 Jun 2023

,

9 a.m.

-

6 p.m.

Sat.

10 Jun 2023

,

9 a.m.

-

6 p.m.

Sun.

11 Jun 2023

,

9 a.m.

-

6 p.m.

Mon.

12 Jun 2023

,

9 a.m.

-

6 p.m.

Wed.

14 Jun 2023

,

9 a.m.

-

8 p.m.

Thu.

15 Jun 2023

,

9 a.m.

-

6 p.m.

Fri.

16 Jun 2023

,

9 a.m.

-

6 p.m.

Sat.

17 Jun 2023

,

9 a.m.

-

6 p.m.

Sun.

18 Jun 2023

,

9 a.m.

-

6 p.m.

Mon.

19 Jun 2023

,

9 a.m.

-

6 p.m.

Wed.

21 Jun 2023

,

9 a.m.

-

8 p.m.

Thu.

22 Jun 2023

,

9 a.m.

-

6 p.m.

Fri.

23 Jun 2023

,

9 a.m.

-

6 p.m.

Sat.

24 Jun 2023

,

9 a.m.

-

6 p.m.

Sun.

25 Jun 2023

,

9 a.m.

-

6 p.m.

Mon.

26 Jun 2023

,

9 a.m.

-

6 p.m.

Wed.

28 Jun 2023

,

9 a.m.

-

8 p.m.

Thu.

29 Jun 2023

,

9 a.m.

-

6 p.m.

Fri.

30 Jun 2023

,

9 a.m.

-

6 p.m.

July

Sat.

01 Jul 2023

,

9 a.m.

-

6 p.m.

Sun.

02 Jul 2023

,

9 a.m.

-

6 p.m.

Mon.

03 Jul 2023

,

9 a.m.

-

6 p.m.

Wed.

05 Jul 2023

,

9 a.m.

-

8 p.m.

Thu.

06 Jul 2023

,

9 a.m.

-

6 p.m.

Fri.

07 Jul 2023

,

9 a.m.

-

6 p.m.

Sat.

08 Jul 2023

,

9 a.m.

-

6 p.m.

Sun.

09 Jul 2023

,

9 a.m.

-

6 p.m.

Mon.

10 Jul 2023

,

9 a.m.

-

6 p.m.

Wed.

12 Jul 2023

,

9 a.m.

-

8 p.m.

Thu.

13 Jul 2023

,

9 a.m.

-

6 p.m.

Fri.

14 Jul 2023

,

9 a.m.

-

6 p.m.

Sat.

15 Jul 2023

,

9 a.m.

-

6 p.m.

Sun.

16 Jul 2023

,

9 a.m.

-

6 p.m.

Mon.

17 Jul 2023

,

9 a.m.

-

6 p.m.

Wed.

19 Jul 2023

,

9 a.m.

-

8 p.m.

Thu.

20 Jul 2023

,

9 a.m.

-

6 p.m.

Fri.

21 Jul 2023

,

9 a.m.

-

6 p.m.

Sat.

22 Jul 2023

,

9 a.m.

-

6 p.m.

Sun.

23 Jul 2023

,

9 a.m.

-

6 p.m.

Mon.

24 Jul 2023

,

9 a.m.

-

6 p.m.

Wed.

26 Jul 2023

,

9 a.m.

-

8 p.m.

Thu.

27 Jul 2023

,

9 a.m.

-

6 p.m.

Fri.

28 Jul 2023

,

9 a.m.

-

6 p.m.

Sat.

29 Jul 2023

,

9 a.m.

-

6 p.m.

Sun.

30 Jul 2023

,

9 a.m.

-

6 p.m.

Mon.

31 Jul 2023

,

9 a.m.

-

6 p.m.

August

Wed.

02 Aug 2023

,

9 a.m.

-

8 p.m.

Thu.

03 Aug 2023

,

9 a.m.

-

6 p.m.

Fri.

04 Aug 2023

,

9 a.m.

-

6 p.m.

Sat.

05 Aug 2023

,

9 a.m.

-

6 p.m.

Sun.

06 Aug 2023

,

9 a.m.

-

6 p.m.

Mon.

07 Aug 2023

,

9 a.m.

-

6 p.m.

Wed.

09 Aug 2023

,

9 a.m.

-

8 p.m.

Thu.

10 Aug 2023

,

9 a.m.

-

6 p.m.

Fri.

11 Aug 2023

,

9 a.m.

-

6 p.m.

Sat.

12 Aug 2023

,

9 a.m.

-

6 p.m.

Sun.

13 Aug 2023

,

9 a.m.

-

6 p.m.

Mon.

14 Aug 2023

,

9 a.m.

-

6 p.m.

Tue.

15 Aug 2023

,

9 a.m.

-

6 p.m.

Wed.

16 Aug 2023

,

9 a.m.

-

8 p.m.

Thu.

17 Aug 2023

,

9 a.m.

-

6 p.m.

Fri.

18 Aug 2023

,

9 a.m.

-

6 p.m.

Sat.

19 Aug 2023

,

9 a.m.

-

6 p.m.

Sun.

20 Aug 2023

,

9 a.m.

-

6 p.m.

Mon.

21 Aug 2023

,

9 a.m.

-

6 p.m.

Wed.

23 Aug 2023

,

9 a.m.

-

8 p.m.

Thu.

24 Aug 2023

,

9 a.m.

-

6 p.m.

Fri.

25 Aug 2023

,

9 a.m.

-

6 p.m.

Sat.

26 Aug 2023

,

9 a.m.

-

6 p.m.

Sun.

27 Aug 2023

,

9 a.m.

-

6 p.m.

Mon.

28 Aug 2023

,

9 a.m.

-

6 p.m.

Wed.

30 Aug 2023

,

9 a.m.

-

8 p.m.

Thu.

31 Aug 2023

,

9 a.m.

-

6 p.m.

September

Fri.

01 Sep 2023

,

9 a.m.

-

6 p.m.

Sat.

02 Sep 2023

,

9 a.m.

-

6 p.m.

Sun.

03 Sep 2023

,

9 a.m.

-

6 p.m.

Fewer dates