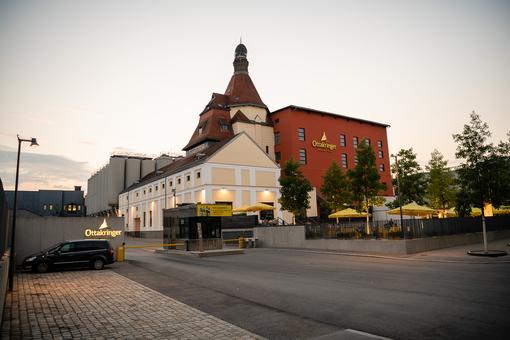 Ottakringer Beer Festival 2021
This summer, the forecourt of the Ottakringer brewery will once again be the stage for beer variety, street food, and cozy get-togethers.
From July 1 to September 3, the Ottakringer Beer Festival will celebrate beer culture, from 4 p.m. to midnight Monday through Saturday.
The absolute highlight is the large Ottakringer stand, where all beers and exclusive special fillings are freshly tapped. In addition, there is a variety of craft beers to discover at the Ottakringer BrauWerk stand. To make the trip to Ottakring extra worthwhile, there are also attractions on the program.
Admission free!
Venue
Ottakringer Platz 1
1160
Wien
Map
Tickets & Info
Tischreservierung / Table reservation
Current Dates
Wed.

28 Jul 2021

,

4 p.m.

-

midnight

Thu.

29 Jul 2021

,

4 p.m.

-

midnight

Fri.

30 Jul 2021

,

4 p.m.

-

midnight

Sat.

31 Jul 2021

,

4 p.m.

-

midnight

Mon.

02 Aug 2021

,

4 p.m.

-

midnight

Tue.

03 Aug 2021

,

4 p.m.

-

midnight

Wed.

04 Aug 2021

,

4 p.m.

-

midnight

Thu.

05 Aug 2021

,

4 p.m.

-

midnight

Fri.

06 Aug 2021

,

4 p.m.

-

midnight

Sat.

07 Aug 2021

,

4 p.m.

-

midnight
All dates
All Dates
August

Mon.

09 Aug 2021

,

4 p.m.

-

midnight

Tue.

10 Aug 2021

,

4 p.m.

-

midnight

Wed.

11 Aug 2021

,

4 p.m.

-

midnight

Thu.

12 Aug 2021

,

4 p.m.

-

midnight

Fri.

13 Aug 2021

,

4 p.m.

-

midnight

Sat.

14 Aug 2021

,

4 p.m.

-

midnight

Mon.

16 Aug 2021

,

4 p.m.

-

midnight

Tue.

17 Aug 2021

,

4 p.m.

-

midnight

Wed.

18 Aug 2021

,

4 p.m.

-

midnight

Thu.

19 Aug 2021

,

4 p.m.

-

midnight

Fri.

20 Aug 2021

,

4 p.m.

-

midnight

Sat.

21 Aug 2021

,

4 p.m.

-

midnight

Mon.

23 Aug 2021

,

4 p.m.

-

midnight

Tue.

24 Aug 2021

,

4 p.m.

-

midnight

Wed.

25 Aug 2021

,

4 p.m.

-

midnight

Thu.

26 Aug 2021

,

4 p.m.

-

midnight

Fri.

27 Aug 2021

,

4 p.m.

-

midnight

Sat.

28 Aug 2021

,

4 p.m.

-

midnight

Mon.

30 Aug 2021

,

4 p.m.

-

midnight

Tue.

31 Aug 2021

,

4 p.m.

-

midnight

September

Wed.

01 Sep 2021

,

4 p.m.

-

midnight

Thu.

02 Sep 2021

,

4 p.m.

-

midnight

Fri.

03 Sep 2021

,

4 p.m.

-

midnight