Film Festival at Vienna's Rathausplatz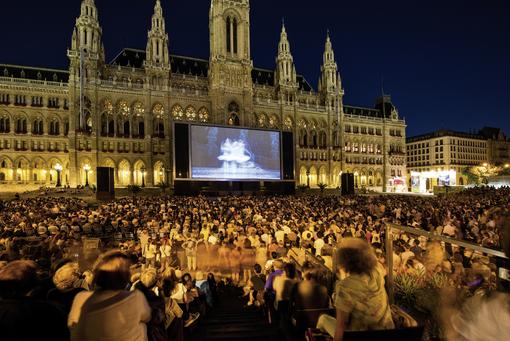 Each year, Vienna's Rathausplatz is transformed into a meeting place for music fans and the late-night crowd, who come to enjoy the music films and culinary delights on offer during the Film Festival.
The spectrum ranges from opera to pop. Located on the square outside City Hall, the Film Festival Vienna runs all summer long, from July 1 to September 3.
Admission is free.
Culinary variety from all over the world: daily from 11 a.m. to midnight
Film start: daily at nightfall
Venue
Rathausplatz
1010
Wien
Current Dates
Sat.

01 Jul 2023

Sun.

02 Jul 2023

Mon.

03 Jul 2023

Tue.

04 Jul 2023

Wed.

05 Jul 2023

Thu.

06 Jul 2023

Fri.

07 Jul 2023

Sat.

08 Jul 2023

Sun.

09 Jul 2023

Mon.

10 Jul 2023
All dates
All Dates
July

Sat.

01 Jul 2023

Sun.

02 Jul 2023

Mon.

03 Jul 2023

Tue.

04 Jul 2023

Wed.

05 Jul 2023

Thu.

06 Jul 2023

Fri.

07 Jul 2023

Sat.

08 Jul 2023

Sun.

09 Jul 2023

Mon.

10 Jul 2023

Tue.

11 Jul 2023

Wed.

12 Jul 2023

Thu.

13 Jul 2023

Fri.

14 Jul 2023

Sat.

15 Jul 2023

Sun.

16 Jul 2023

Mon.

17 Jul 2023

Tue.

18 Jul 2023

Wed.

19 Jul 2023

Thu.

20 Jul 2023

Fri.

21 Jul 2023

Sat.

22 Jul 2023

Sun.

23 Jul 2023

Mon.

24 Jul 2023

Tue.

25 Jul 2023

Wed.

26 Jul 2023

Thu.

27 Jul 2023

Fri.

28 Jul 2023

Sat.

29 Jul 2023

Sun.

30 Jul 2023

Mon.

31 Jul 2023

August

Tue.

01 Aug 2023

Wed.

02 Aug 2023

Thu.

03 Aug 2023

Fri.

04 Aug 2023

Sat.

05 Aug 2023

Sun.

06 Aug 2023

Mon.

07 Aug 2023

Tue.

08 Aug 2023

Wed.

09 Aug 2023

Thu.

10 Aug 2023

Fri.

11 Aug 2023

Sat.

12 Aug 2023

Sun.

13 Aug 2023

Mon.

14 Aug 2023

Tue.

15 Aug 2023

Wed.

16 Aug 2023

Thu.

17 Aug 2023

Fri.

18 Aug 2023

Sat.

19 Aug 2023

Sun.

20 Aug 2023

Mon.

21 Aug 2023

Tue.

22 Aug 2023

Wed.

23 Aug 2023

Thu.

24 Aug 2023

Fri.

25 Aug 2023

Sat.

26 Aug 2023

Sun.

27 Aug 2023

Mon.

28 Aug 2023

Tue.

29 Aug 2023

Wed.

30 Aug 2023

Thu.

31 Aug 2023

September

Fri.

01 Sep 2023

Sat.

02 Sep 2023

Sun.

03 Sep 2023

Fewer dates