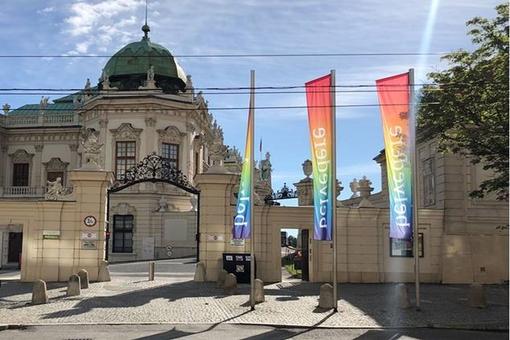 Queering the Belvedere
During Pride Month in June, the Belvedere sends out a signal for diversity, tolerance and respect for all differences. The rainbow flags in front of the museum's locations, thematic accents in art education and the Queering the Belvedere programme in Belvedere 21 stand for cosmopolitanism and inclusion.

Performances, readings, concerts, film screenings, presentations and talks take place free of charge and outdoors.
Locations:
SKULPTURENGARTEN IM BELVEDERE 21 Museum für zeitgenössische Kunst Arsenalstraße 1, 1030 Wien
OBERES BELVEDERE Prinz Eugen-Straße 27, 1030 Wien
BAROCKGARTEN OBERES BELVEDERE Zugang: Prinz Eugen-Straße 27 oder Landstraßer Gürtel


Current Dates
Thu.

17 Jun 2021

Fri.

18 Jun 2021

Thu.

24 Jun 2021