Lipizzaner Special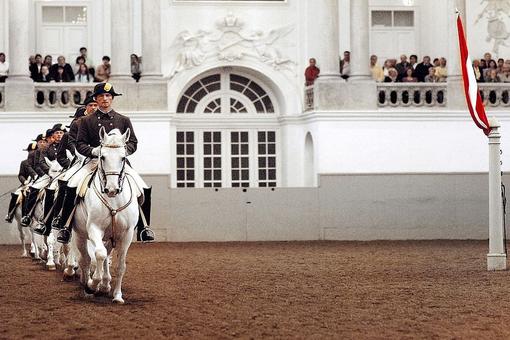 During the "Lipizzaner Special" three program points out of the Spanish Riding School's repertoire transmit an idea of the High School of Classical Horsemanship, known as the "white Lipizzaner ballet" all around the globe.
Besides the "Schools on and above the ground", including the famous "Levade" or the spectacular "Capriole", visitors will be able to experience alternately the so called "Work in hand", the "Work on the long rein", a solo program including "All the steps and movements of the High School" and the world famous "School Quadrille". Including additional comments during the short intervals between the individual riding displays and accompanied by the most beautiful sounds of classical music, the condensed, new program lasts approx. 45 minutes.
Venue
Michaelerplatz 1 (Besucherzentrum/Visitor Center)
1010
Wien
Current Dates
Fri.

09 Dec 2022

,

11 a.m.

Mon.

26 Dec 2022

,

11 a.m.