Kultursommer Wien 2023 (Summer of Culture Vienna 2023)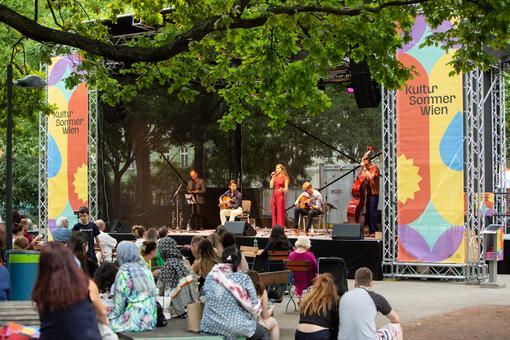 Family
From June 30 to August 13, around 2,000 artists will perform at various locations, from the city center to the outskirts.

The extensive program of the Cultural Summer 2023 is as diverse as the city itself: Events and concerts ranging from rock, pop, classical, jazz, Viennese song, dance, theater, performance, literature to contemporary circus, figure and object theater, cabaret, choir and brass band music.

On June 29 and 30, summer open-air concerts with the VWiener Symphoniker will take place on the Kaiserwiese in the Prater under the motto "Prater Picnic." The opening concerts of the Vienna Summer of Culture invites families to the Vienna Prater at the end of school and the beginning of the vacations.
Admission free!


Tickets & Info
Detailliertes Programm / detailed program:
Current Dates
Fri.

30 Jun 2023

Sat.

01 Jul 2023

Sun.

02 Jul 2023

Mon.

03 Jul 2023

Tue.

04 Jul 2023

Wed.

05 Jul 2023

Thu.

06 Jul 2023

Fri.

07 Jul 2023

Sat.

08 Jul 2023

Sun.

09 Jul 2023
All dates
All Dates
June July

Sat.

01 Jul 2023

Sun.

02 Jul 2023

Mon.

03 Jul 2023

Tue.

04 Jul 2023

Wed.

05 Jul 2023

Thu.

06 Jul 2023

Fri.

07 Jul 2023

Sat.

08 Jul 2023

Sun.

09 Jul 2023

Mon.

10 Jul 2023

Tue.

11 Jul 2023

Wed.

12 Jul 2023

Thu.

13 Jul 2023

Fri.

14 Jul 2023

Sat.

15 Jul 2023

Sun.

16 Jul 2023

Mon.

17 Jul 2023

Tue.

18 Jul 2023

Wed.

19 Jul 2023

Thu.

20 Jul 2023

Fri.

21 Jul 2023

Sat.

22 Jul 2023

Sun.

23 Jul 2023

Mon.

24 Jul 2023

Tue.

25 Jul 2023

Wed.

26 Jul 2023

Thu.

27 Jul 2023

Fri.

28 Jul 2023

Sat.

29 Jul 2023

Sun.

30 Jul 2023

Mon.

31 Jul 2023

August

Tue.

01 Aug 2023

Wed.

02 Aug 2023

Thu.

03 Aug 2023

Fri.

04 Aug 2023

Sat.

05 Aug 2023

Sun.

06 Aug 2023

Mon.

07 Aug 2023

Tue.

08 Aug 2023

Wed.

09 Aug 2023

Thu.

10 Aug 2023

Fri.

11 Aug 2023

Sat.

12 Aug 2023

Sun.

13 Aug 2023

Fewer dates