Wien im Rosenstolz 2023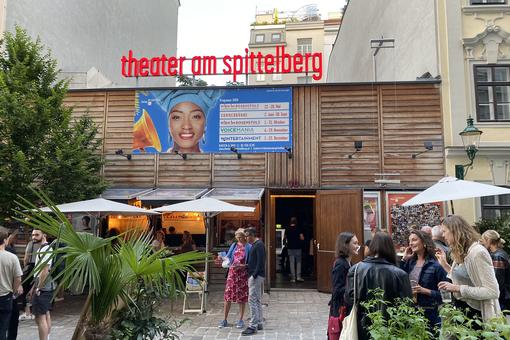 Wien im Rosenstolz strews this year roses for the musical dialectic onomatopoeia of the Viennese soul in the perpetual, profoundly new flight of fancy.
Influentially in the counterpoint Grätzl tone and world sound incessantly seething, in inimitable Mischkulanz yet idiosyncratically harmonious, humorous to relentlessly self-ironic, the Viennese soul is a special biotope. From October 1 to 31, the Festival Wien im Rosenstolz at the Theater am Spittelberg will reflect this biotope in the form of a wide variety of artistic characters.
Venue
Spittelberggasse 10
1070
Wien
Tickets & Info
Detailprogramm / Program:
Current Dates
Wed.

04 Oct 2023

Thu.

05 Oct 2023

Fri.

06 Oct 2023

Sat.

07 Oct 2023

Sun.

08 Oct 2023

Mon.

09 Oct 2023

Tue.

10 Oct 2023

Wed.

11 Oct 2023

Thu.

12 Oct 2023

Fri.

13 Oct 2023
All dates
All Dates
October

Wed.

04 Oct 2023

Thu.

05 Oct 2023

Fri.

06 Oct 2023

Sat.

07 Oct 2023

Sun.

08 Oct 2023

Mon.

09 Oct 2023

Tue.

10 Oct 2023

Wed.

11 Oct 2023

Thu.

12 Oct 2023

Fri.

13 Oct 2023

Sat.

14 Oct 2023

Sun.

15 Oct 2023

Mon.

16 Oct 2023

Tue.

17 Oct 2023

Wed.

18 Oct 2023

Thu.

19 Oct 2023

Fri.

20 Oct 2023

Sat.

21 Oct 2023

Sun.

22 Oct 2023

Mon.

23 Oct 2023

Tue.

24 Oct 2023

Wed.

25 Oct 2023

Thu.

26 Oct 2023

Fri.

27 Oct 2023

Sat.

28 Oct 2023

Sun.

29 Oct 2023

Mon.

30 Oct 2023

Tue.

31 Oct 2023

Fewer dates