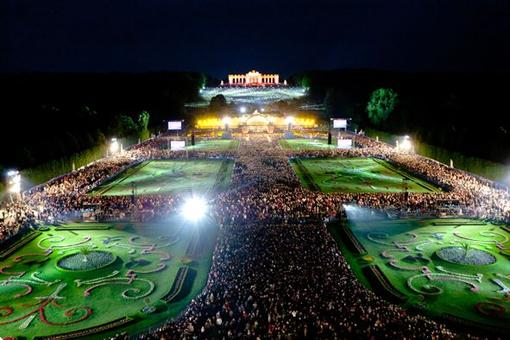 Summer Night Concert Schönbrunn 2022
Musical enjoyment at the highest level against the beautiful backdrop of Schönbrunn!
Vienna Philharmonic
Conductor: Andris Nelsons
Gautier Capuçon, violoncello
This year's program focuses on the musical heritage of Europe with a focus on Ukraine. The Philharmonic Orchestra will play, among other pieces, the waltz "Farewell" by the Ukrainian composer Mykola Lysenko. There will also be music from Nelson's homeland: a tango by 64-year-old Latvian Arturs Maskats.

Program:
Ludwig van Beethoven: Ouvertüre Nr. 3 zu Leonore, op. 72
Mykola Lysenko: Abschied. Walzer in c-Moll (Arrangement: Olexii Bazhenov)
Arturs Maskats: Tango für symphonisches Orchester
Camille Saint-Saëns: Konzert für Violoncello Nr. 1 in a-Moll, op. 33
Gioacchino Rossini: Ouvertüre zu La gazza ladra (Die diebische Elster)
George Enescu: Rumänische Rhapsodie Nr. 1 in A-Dur, op. 11/1
Bedřich Smetana: Ouvertüre zu Prodaná nevěsta (Die verkaufte Braut)
Antonin Dvořák: Slawischer Tanz in e-Moll, op. 72/2
Free admission - no tickets required.
Venue
Schönbrunner Schlossstraße
1130
Wien
Current Dates
Thu.

16 Jun 2022

,

8:45 p.m.