Big City / Small Format: Vienna in Postcards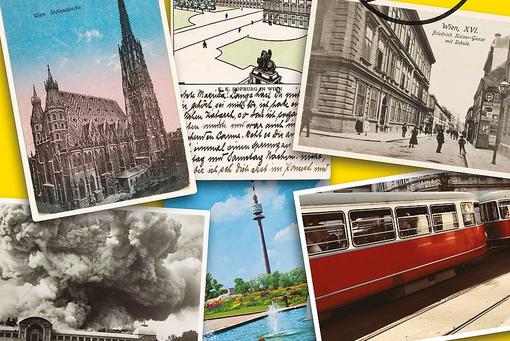 Postcards can seem like old-fashioned ephemera. In truth, they are among the defining mass media of the modern age. Their ubiquitous spread around 1900 transformed the way we frame the world and its cities. They caused a veritable "image revolution," emerging as the first global picture format. To this day, postcards play an important role in the perception, representation, and documentation of our urban surroundings.

The exhibition is the first attempt at a comprehensive history of the picture postcard in Vienna. The focus lies on illustrations and representations of the city, its streets, squares, and buildings. From early on, postcards were more than vehicles for tourist greetings featuring prominent sights. They also showed the side streets and inns of the suburbs, recorded important current events, and was popularly filed as a series in albums. Only recently did they come to represent kitschy hallmarks of mass tourism.

The exhibition covers the origins of Viennese postcards, probes their local specificities, reconstructs their use as a medium of communication and advertising, and traces its status as an art form and collector's item. How have postcards changed over the course of more than 100 years? What images of Vienna have they conveyed? What attempts are there today to adapt the picture postcard in new ways? And how do present-day social media like Instagram dovetail with its history?


Venue
Felderstraße 6-8
1010
Wien
Current Dates
Sat.

23 Sep 2023

,

10 a.m.

-

6 p.m.

Sun.

24 Sep 2023

,

10 a.m.

-

6 p.m.