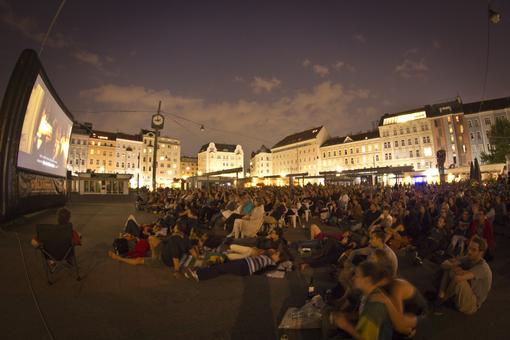 VOLXkino 2022 - the mobile film festival
For 33 years, VOLXkino has been creating temporary social spaces, and in all districts of the city. While at the beginning the VOLXkino was practically exclusively and quasi "exclusively" on the road in the outlying districts such as Donaustadt, Floridsdorf, Favoriten or Liesing, today the entire city is part of the VOLXkino's action space.

With three dates, from May 25 - 27, VOLXkino starts this year's open-air cinema season. It will open in the usual way at the Karmelitermarkt with Wojtek Smarzowski's "Klerus / Kler". After that, VOLXkino will tour Vienna in its tried and tested manner with locations in the Schweizergarten, at the Roter Berg and for the first time at the interim use project "Wild im West" or the new Danube at Usus am Wasser.

As usual, VOLXkino presents a wide selection of current and successful feature films off the mainstream as well as documentaries and short films.
A large part of the program will be devoted to the work of Austrian filmmakers, including Kurdwin Ayub's "Sonne", Ulrich Seidl's "Rimini" and "Soldat Ahmet" by Jannis Lenz.

Admission free!
Current Dates
Wed.

25 May 2022

Thu.

26 May 2022

Fri.

27 May 2022

Sat.

28 May 2022

Sun.

29 May 2022

Mon.

30 May 2022

Tue.

31 May 2022

Wed.

01 Jun 2022

Thu.

02 Jun 2022

Fri.

03 Jun 2022
All dates
All Dates
June

Sat.

04 Jun 2022

Sun.

05 Jun 2022

Mon.

06 Jun 2022

Tue.

07 Jun 2022

Wed.

08 Jun 2022

Thu.

09 Jun 2022

Fri.

10 Jun 2022

Sat.

11 Jun 2022

Sun.

12 Jun 2022

Mon.

13 Jun 2022

Tue.

14 Jun 2022

Wed.

15 Jun 2022

Thu.

16 Jun 2022

Fri.

17 Jun 2022

Sat.

18 Jun 2022

Sun.

19 Jun 2022

Mon.

20 Jun 2022

Tue.

21 Jun 2022

Wed.

22 Jun 2022

Thu.

23 Jun 2022

Fri.

24 Jun 2022

Sat.

25 Jun 2022

Sun.

26 Jun 2022

Mon.

27 Jun 2022

Tue.

28 Jun 2022

Wed.

29 Jun 2022

Thu.

30 Jun 2022

July

Fri.

01 Jul 2022

Sat.

02 Jul 2022

Sun.

03 Jul 2022

Mon.

04 Jul 2022

Tue.

05 Jul 2022

Wed.

06 Jul 2022

Thu.

07 Jul 2022

Fri.

08 Jul 2022

Sat.

09 Jul 2022

Sun.

10 Jul 2022

Mon.

11 Jul 2022

Tue.

12 Jul 2022

Wed.

13 Jul 2022

Thu.

14 Jul 2022

Fri.

15 Jul 2022

Sat.

16 Jul 2022

Sun.

17 Jul 2022

Mon.

18 Jul 2022

Tue.

19 Jul 2022

Wed.

20 Jul 2022

Thu.

21 Jul 2022

Fri.

22 Jul 2022

Sat.

23 Jul 2022

Sun.

24 Jul 2022

Mon.

25 Jul 2022

Tue.

26 Jul 2022

Wed.

27 Jul 2022

Thu.

28 Jul 2022

Fri.

29 Jul 2022

Sat.

30 Jul 2022

Sun.

31 Jul 2022

August

Mon.

01 Aug 2022

Tue.

02 Aug 2022

Wed.

03 Aug 2022

Thu.

04 Aug 2022

Fri.

05 Aug 2022

Sat.

06 Aug 2022

Sun.

07 Aug 2022

Mon.

08 Aug 2022

Tue.

09 Aug 2022

Wed.

10 Aug 2022

Thu.

11 Aug 2022

Fri.

12 Aug 2022

Sat.

13 Aug 2022

Sun.

14 Aug 2022

Mon.

15 Aug 2022

Tue.

16 Aug 2022

Wed.

17 Aug 2022

Thu.

18 Aug 2022

Fri.

19 Aug 2022

Sat.

20 Aug 2022

Sun.

21 Aug 2022

Mon.

22 Aug 2022

Tue.

23 Aug 2022

Wed.

24 Aug 2022

Thu.

25 Aug 2022

Fri.

26 Aug 2022

Sat.

27 Aug 2022

Sun.

28 Aug 2022

Mon.

29 Aug 2022

Tue.

30 Aug 2022

Wed.

31 Aug 2022

September

Thu.

01 Sep 2022

Fri.

02 Sep 2022

Sat.

03 Sep 2022

Sun.

04 Sep 2022

Mon.

05 Sep 2022

Tue.

06 Sep 2022

Wed.

07 Sep 2022

Thu.

08 Sep 2022

Fri.

09 Sep 2022

Sat.

10 Sep 2022

Sun.

11 Sep 2022

Mon.

12 Sep 2022

Tue.

13 Sep 2022

Wed.

14 Sep 2022

Thu.

15 Sep 2022