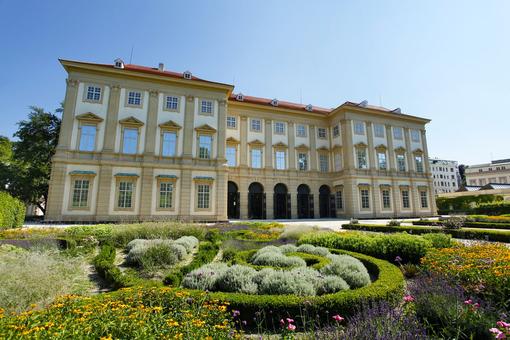 Sommer Rhapsodie in the Garden
The programme features an inspiring mix of classical music, jazz, readings, theatre, swing, Viennese song and much more. Entertaining summer evenings await you in the guest garden of the newly designed Vinothek & Bar of the Hofkellerei Liechtenstein in the park of the GARTENPALAIS. A glass of wine, selected regional specialities, coffee and homemade pastries promise princely pleasure.
From 7 July to 19 August the "Summer Rhapsody in the Garden" takes place every Tuesday and Wednesday from 19.00 - 21.00 (admission 18.00).
Di 07.07.2020 Rhapsodie - #Barock
Barockgala Wiener Akademie. Leitung: Jeremy Joseph

Mi 08.07.2020 Rhapsodie - #Theater
Lesekabarett "Theater Lachertorten" mit Miguel Herz-Kestranek
Schauspiel "#werther"

Di 14.07.2020 Rhapsodie - #Jazz
Jazzabend mit Georg Breinschmid, Benjamin Schmid und Thomas Gansch

Mi 15.07.2020 Rhapsodie - #Karriere
"Die (irr)witzige & (halb)seidende Karriere des Fräulein Erna" - ein turbulentes Solo mit Mercedes Echerer

Di 21.07.2020 Rhapsodie - #Wienerlied
"Weanarisch g'redt, g'sungen und g'spielt" mit Fifi Pissecker, Tini Kainrath, Rudi Koschelu und Tommy Hojsa

Mi 22.07.2020 Rhapsodie - #Klassik
LGT Young Soloists
Philharmonia -Trio Wien-Berlin mit Ottensamer/Traxler/Koncz

Di 28.07.2020 Rhapsodie - #Liechtenstein
Eröffnungsconférence mit Katja Langenbahn-Schremser
TRIMOLON Jazzscapes
Cross Connection feat. Haubenkoch Martin Real

Mi 29.07.2020 Rhapsodie - #Swing
Joschi Schneeberger Gypsy Swingtet
"Ella Forever" mit Karin Bachner und The Pocket Big Band

Di 04.08.2020 Rhapsodie - #Weibsbilder
Ein musikalisch-literarischer Abend von Thomas Kahry

Mi 05.08.2020 Rhapsodie - #Lebhaft
Alex Kristan "Lebhaft"

Di 11.08.2020 Rhapsodie - #Wiener Rausch
Thomas Maurer & Florian Scheuba "Schall & Rausch"
Wiener Blond

Mi 12.08.2020 Rhapsodie - #Crossover
Schauspiel "Leutnant Gustl" von Arthur Schnitzler mit Josef Ellers
Adamas Quartett feat. Helmut Jasbar

Di 18.08.2020 Rhapsodie - #RosaPanther
Lesung Cornelius Obonya "Der wilden Affenscheisse ganze Fülle"
"A Tribute to Burt Bacharach & Michel Legrand" mit Maaike Schuurmans & Hans Neblung (VBW Wien)

Mi 19.08.2020 Rhapsodie - #Soul
HFB – Horny Funk Brothers und andere
Venue
Fürstengasse 1
1090
Wien
Map
Current Dates
Wed.

12 Aug 2020

,

7 p.m.

Tue.

18 Aug 2020

,

7 p.m.

Wed.

19 Aug 2020

,

7 p.m.